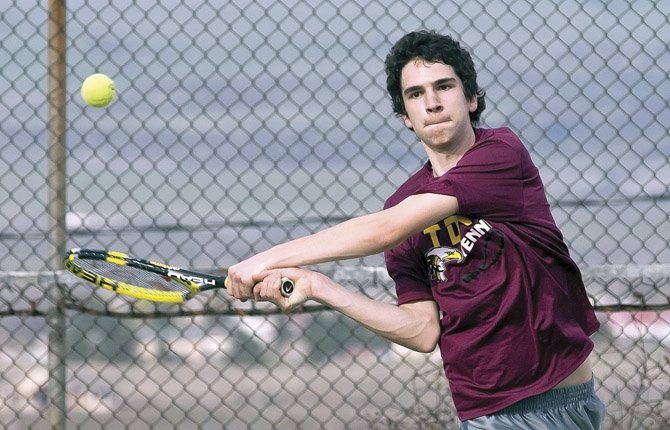 While having to suit up against the top tennis schools in the state, The Dalles Wahtonka Coach Andrew Hughes had a chance to soak in what skills his team has to build on for the future.
Although none of the Eagle Indian players earned state berths at this past weekend's two-day 5A Special District 4 tournament at Sunriver Resort, Hughes saw some huge gains made.
One of the biggest gains was the selfless act displayed by Carlos Valenzuela.
With Griffin Martin fully recovered from an ankle injury and getting a final go-ahead to compete on the district stage, Hughes had to pencil in his top-12 athletes to participate.
One player had to be excluded, so Valenzuela quickly raised his hand to allow Martin a chance to play on the singles slate.
Valenzuela still made the long bus trip with his mates and contributed in an assistant coaching capacity.
"That shows a tremendous amount of sacrifice for the betterment of the team," Hughes said of Valenzuela. "He came along and was an encouragement to the players. Things like that are so rewarding. (It is) more rewarding than just winning it. I am so proud of Carlos for thinking of his teammates first. It meant a lot to me and to the team, especially Griffin."
As a team, the Eagle Indians posted six wins, with Martin chalking up three consolation victories.
Martin, a No. 5 seed, lost his opening round match to Mountain View's Phil Atkinson by a 6-1, 6-0 margin, in a start Hughes attributed to rust more than anything else.
However, Martin then got things cooking in his consolation run with an 8-4 winner over Hood River Valley's Cooper Holzman.
He then dispatched of Summit's Max Ettoli by an 8-5 score to earn a slot in the next round, where he lined up opposite of Pendleton's Reece Lathan.
Martin played a close match, but managed to get some bounces to go his way in an 8-5 triumph to jump into the finals against Pendleton's Josh Sateen.
In that match, Martin motored out to a 4-1 lead in the opener, but Sateen rebounded to grab a 7-5 win to go up 1-0.
The Buckaroo standout then secured a victory by a 7-5 tally in the second set to grab the consolation crown.
"I would have really liked to have seen Griffin at full strength to see what he really could have done against his opponents," Hughes said.
The doubles team of Antonio Argueta and Milo Romney rattled off multiple wins in the two days of competition, after losing their opener to a Summit duo.
In that match, they lost 6-2, 6-1 to earn a spot in the consolation bracket.
There they went on to beat their Hood River valley opponents by an 8-3 score, and then they inched past Redmond's Powell and Schmidt, 9-7 to move closer to the consolation finals.
They had their run cut short 8-3 in the next round.
Cole McDowell had the other Tribe win in the tournament, this one coming in the consolation round versus Hermiston's Pedro Pachiquin.
McDowell was upended 6-2, 7-5 in a hard-fought match against Mountain View's Seth Atkinson, so he was in the hunt.
He then dropped Pachiquin by an 8-6 margin to keep his event going.
Pendleton's Sateen was next in line and he doubled up on McDowell, 8-4 score.
"Cole McDowell grew tremendously as a player this year," Hughes said. "He is as good of a server as anyone, but if we can improve on his net game, he will be more of a complete player."
Senior player Carlos Barajas played in two matches overall and his first match was a heartbreaking defeat at the hands of Sateen, who won in three sets.
Barajas secured a 6-4 decision in the opening round, but Sateen turned the table in Game 2 with a 6-2 winner to move the match into a third-set tiebreaker.
The Pendleton player rallied late for a 10-7 triumph to move on.
That loss put Barajas into a tough tussle versus Hood River's Scottie Ziegner, the No. 3 seed.
The HRV hit on all cylinders for a lopsided 6-0, 6-0 matchup to advance and end Barajas' season.
Christian Munoz had a deadly draw in both of his matches, but he put up a good fight against two solid opponents.
He faced Hood River's Marty Sova in the opening round and after losing 6-2 in the first game, he withstood the challenge and wound up tied 5-5 at one point in the second set.
Sova picked up the pieces and came away with a 7-5 winner to send Munoz to the consolation bracket.
In his opening match, Munoz hit the courts with Chandler Oliviera, of Summit, with the Storm athlete coming out in front by scores of 6-0 and 6-0.
As one of TDW's best doubles teams, the senior tandem of Jose Santillan and Chava Vasquez made their statement early on in first round action against Hermiston's Wade Kamper and Marco Gonzalez.
Santillan and Vasquez had everything working for them in this match where they rolled to scores of 6-4, 7-6 (7-3) to punch their ticket into the next round.
"(It was) really an incredible match," Hughes said. "It was an intense match. I thought this was their best performance of the year. They put it together in this match."
Summit's Nichols and Dalquist were waiting next and they rallied for a 6-1, 6-0 win, a score that cut the season short for Santillan and Vasquez.
As an inexperienced doubles team, Hughes was not sure what he would get out of Ethan Semlor and Daniel Spurr, who had not played together extensively.
They lost 6-2, 6-0 to Reeves and Anderton, and then in the consolation round, the Mountain View duo of Smith and Wolfenden came out in front, 8-5.
William Coy and Ben Dlala presented the final two participants for Hughes in this tournament, and they came through with a top effort against Edwards and Ferrick.
Coy and Dlala lost the opening set by a 6-1 tally, but answered the Game 2 call by doling out a 6-4 winner to even things up at 1-apiece.
Edwards and Ferrick needed to work overtime, but still managed to work out to a 10-6 split to take this contest.
Coy and Dlala did battle in the consolation, but lost to Mountain View's Larranata and Kolodgigily by an 8-3 marker.
In all, Hughes was proud of the performances put forth by his team and said they all handled themselves with class.
Now the offseason work begins for this group.
"I just think we played some of our best tennis this season here in these two days," Hughes said. "To see some of younger kids play some top state-level teams and having them see the intensity level and skill at this level, all it does is build in these kids a desire to get better."