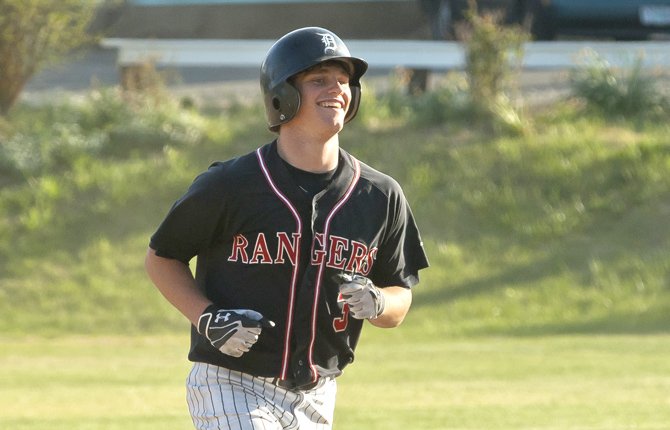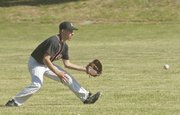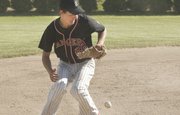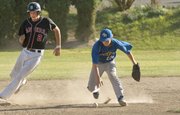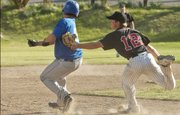 Tuesday's DHS Box
Dufur 12, Pilot Rock 11
PIRO 143 002 1 — 11 11 4
DUF 231 050 1 — 12 13 6
Skylar Leasy and Austin Weinke; Cole Parke and Jake Kortge. W: Parke. L: Leasy. SO/BB: Leasy 8/3 (HBP); Parke 8/3 (2 HBP).
---
OFFENSE: HR: Josh Keyser (D), Parke (D); 3B: Parke (D). 2B: Mike Hiatt (PR); Parke (D), Nick Little (D).
PILOT ROCK: Weinke 1-3 3 runs, RBI, HBP, walk; Ryle Campbell 2-5 2 runs, RBI, SB; Leasy 3-4 3 RBIs; 2 SB; Jake Pierre 0-2 RBI, walk, SB; Dustin Dedios 0-4; Hiatt 3 runs, HBP, walk; Levi Pendergraft 2-4 run, SB; Justin Willingham 1-4 2 runs, RBI, SB; Dillon Fritz 1-3; Ty Jackson 0-1 RBI. -- LOB: 7.
DUFUR: Parke 5-5 4 runs, 5 RBI; Bryson Caldwell 1-4 run, RBI; Keyser 1-2 2 runs, 2 RBI, HBP, walk; Trever Tibbets 2-3 RBI, walk; Nathan Duling 1-4; Kortge 2-4 run, 2 RBIs; Little 1-4 2 runs; Brent Sumner 0-3 2 runs, walk; Bradley Newman 0-4. -- LOB: 6.
Just a home run from a rare cycle, Cole Parke came through with his usual flair for the dramatic.
The Dufur junior rifled a 2-1 fastball to the opposite field for walk-off home run in the bottom of the seventh inning to give his team a 12-11 triumph over Pilot Rock and a berth into the 2A Blue Mountain Conference district baseball championships Tuesday in baseball action at Dufur City park.
It is big dream realized for Parke and his teammates.
"I have been waiting for this moment to play in a district championship since my freshman year. It feels so good to finally get that chance. I know means so much to me and my teammates. We have waited a long time, but it is worth it today. It is just a great feeling."
While his effort from the mound was not the best, Parke made up for it from the batter's box where he went 5 for 5 with four runs scored to go with five RBIs.
He singled in the first inning, added a run-scoring double in the second and netted an RBI single in the third to bring the Rangers to within an 8-6 deficit.
Still down by two runs in the fifth frame, Jake Kortge singled, then Nick Little and Brent Sumner reached on back-to-back Pilot Rock errors.
One out later, Parke roped a 1-1 pitch to deep left field to clear the base and give Dufur a 9-8 lead.
He later scored on a single by Bryson Caldwell and Trever Tibbets capped the five-run fifth with a one-out RBI single to make it, 11-8.
"It was a tough game. We were down early, but never gave up," said Dufur senior Bradley Newman. "We always knew if we could get our bats going, we could have a chance. We did it today. Everyone did their part and that is important."
Pilot Rock scored two runs in the sixth on a single and a sacrifice fly, but they were still down, 11-10.
Facing a one-run deficit and a championship berth on the line, the Rockets scored the tying run on a fielder's choice.
In all, there were six lead changes and two ties in a game that featured 23 hits, 10 errors and combined 256 pitches tossed by Parke and Pilot Rock ace Skylar Leasy.
Both pitchers struck out eight apiece and walked three.
"We did not make it easy on ourselves, but we persevered," said Dufur coach C.S. Little. "We stood up to a stiff challenge by Pilot Rock. That is a good ballclub. It seemed like neither team wanted to give in at all. Whenever we answered, they answered back. It was a good seesaw game. I am glad we had one last chance there to win it."
Tibbets added a 2 for 3 effort with a walk and an RBI, and Kortge chipped in with two hits, two RBIs and a run scored.
Josh Keyser also went yard in this game, a two-run home run to right field in the bottom of the second, to tie the game at 5-all.
The first baseman finished 1 for 2 with two RBIs, two runs, a walk and a hit batsman.
Leasy tossed 122 pitches and allowed 13 hits, as four of the runs were unearned.
From the box, he went 3 for 4 with three RBIs and three stolen bases to pace Pilot Rock's 11-hit barrage.
As one of the new players on the team, Nathan Duling, of South Wasco County is looking forward to these next weeks of play to see where it shakes out.
"We have come together well. They have welcomed me in and we have become a solid team," he said. "We know what is at stake for the rest of the season. We know what we can do if we play together and stay focused. It was a good way to win this game. We showed a lot to each other."
Dufur (15-9 overall, 10-4 BMC) plays at 3 p.m. Saturday against Stanfield (16-7, 12-2). There are games at 10 a.m. and 1:30 p.m. as well.