Profit in business comes from repeat customers, customers that boast about your project or service, and that bring friends with them.

—W. Edwards Deming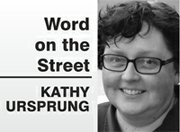 Caught giving good service: It's that time again. It's time to recognize the people with the power to brighten — and potentially ruin — our days with one cheerful or blistering comment.
They're the customer service people we meet every day at dozens of different businesses around the local area.
They are the faces of their businesses, the first people customers and clients meet when they walk in the door. They are, arguably, the most important cog in the economic machine, because they can make a customer want to come back to see their friendly faces, or never want to return and spread the word to their neighbors to steer clear.
To say they are underappreciated is an understatement.
Call me an admiration society of one, but I think these folks deserve an extra scoop of praise. They're the ones who have to deal with the irate customer who has a beef with the company, whether they had anything to do with it or not. They're also the ones who have to deal with the client who has had a bad day and decides to unload on the nearest handy victim. The best of them do so with a smile and leave the customer in a better mood than when they arrived.
So please share your stories of good customer service, as credit to the people involved, and inspiration to others in the field. I'll go first:
I may trudge into Klindt's Booksellers tired, wind-blown or overheated, and probably looking it, but their friendly staff members always make me feel happier and a little bit important. They'll give a book suggestion (which I am always looking for) or if they see what I'm buying, they'll tell me about something else on the shelf I may want to consider. And they'll take a moment to chat so I feel like a person, not just a sale.
I've also never had a bad experience at Big Jim's Drive In, and that's surprising because they hire a fair number of high school students. I'm particularly impressed with their staff because I have never had my order incorrectly filled. That's saying something where the convenience food industry is concerned.
Now how about you? Do you know someone worthy of a pat on the back? Do you have a tip for fellow customer service employees to help them improve their service? Let me know by email at
kursprung@thedalleschronicle.com or by phone at 541-506-4601. Feel free to leave a message.
Credit where due: Shari's Cafe & Pies recently received confirmation of their tasty pies, winning four gold medals at the 2013 National Pie Championships in Orlando, Fla., last month.
Amateur pie makers, professional bakers and chefs, and commercial pie companies from around the country and Canada have been competing at the event since 1995.
Shari's took home the gold medal for four pies, all in the premium category: S'Mores Galore, Fresh Blueberry Lemon Sour Cream, Tropical Coconut Cream and Banana Cream Dream.
This was Shari's third trip to Orlando in which they brought home the gold.
Sawyer's on the 20th: Main Street The Dalles is encouraging shoppers to head over to Sawyer's True Value and Just Ask Rental on Monday, May 20, and drop a Jackson as part of the 20/20 program. The mission of the program is to have an immediate, positive economic impact on the local economy and local, independent businesses. Why independent businesses? Because independent local businesses reinvest in the local economy 60 percent more than chains.
Visit the Polehns: Polehn Farms is the location for this month's Business After Hours for The Dalles Area Chamber of Commerce. The event takes place from 5 to 7 p.m., Thursday, May 16.