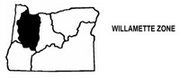 WILLAMETTE ZONE VIEWING
EVENTS
Saturday, May 25 – Animal Tracking Workshop, 10 a.m. – 1:30 p.m., Oxbow Regional Park.
Learn how to identify beavers, otters, deer and other creatures at this workshop hosted by Metro. Registration and payment of $11 per adult required in advance. For more information, call 503-220-2781. Oxbow Regional Park is located at 3010 SE Oxbow Parkway, Gresham, OR 97080. Parking $5.
VALLEYWIDE
Look for flickers nesting
The Northern flicker, a member of the woodpecker family, is a fairly common bird to see in the Willamette Valley. It has salmon-colored wing undersides and a white patch on its rump. Flickers can also be identified by their loud call and drumming action.
They are of great benefit to homeowners because of the large number of insect pests they consume. See photos and learn more, on the Cornell Lab of Ornithology All About Birds Web site.
Flickers typically excavate a new cavity each year in large decaying trees or snags. Females usually produce 5 to 10 eggs, and young nest in the cavity from late April through early August. These birds are protected by both state and federal law.
If a flicker is causing annoyance by drumming on sides of homes, here are some suggested deterrents: Attach Mylar balloons that spin and move in the wind, shiny CDs or streamers of Mylar tape every 2-3 feet along roof eaves near affected area. Leave snags and dead branches in your yard to provide natural habitat and prevent use of human structures by birds. 5/14/13
Eugene Area
Delta Ponds
Delta Ponds offers a great opportunity for wildlife viewing near the heart of Eugene. This time of year viewers can observe native western pond turtles as they soak up the sun basking on logs. The best time to observe turtles is mid-mornings on sunny days. The turtles will retreat back into the water if the temperature is too hot. Please try to observe the turtles from a distance to avoid disturbing them. Unfortunately, viewers will likely see red-eared sliders in addition to the western pond turtles. The sliders are a non-native invasive species that compete with our native turtles for habitat and food.
Numerous bird species utilize the area and provide viewing opportunities including a variety of warblers, western tanagers, Bullock's orioles, green herons, great blue herons, osprey, and others.
Waterfowl are hatching and viewers can observe broods of ducks and geese. These can be a joy to watch but please resist the temptation to feed since unnatural food sources can cause serious health problems for the young birds.
Corvallis Area
EE Wilson Wildlife Area
Wildlife viewing remains good for waterfowl and shorebirds. Neotropical migrants in the area include yellow-breasted chat, American goldfinch, various swallows, warblers, thrush, kinglet and common yellowthroat.
Spring and summer are great times for bird watching migrants as well as waterfowl including mallards, wood duck, hooded merganser, ring-necked duck, western Canada goose. Snipe and other shorebirds are periodically seen. 5/14/13
Find directions to EE Wilson Wildlife Area.
Salem Area
Silver Falls State Park
There is a lot to see at this park located only 25 miles east of Salem.
Robins, hairy woodpeckers, hummingbirds, Oregon juncos, common raven, winter wren (a tiny bird with a big call), red-breasted nuthatch and ruffed and blue grouse can be seen and heard on a stroll along the trails. Stop and look closely now and then — you may see a well-camouflaged brown creeper working its way up the side of a tree, foraging for insects in the bark as it goes.
Stay until late afternoon or early evening. Silver Falls is a mecca for owl lovers—listen for many of Oregon's owls—barred, pygmy, great gray, great horned, saw whet and, maybe even, spotted.
It's wildlife breeding season so keep dogs on a leash—it's required. For information, visit the state parks Web site.
Sauvie Island
Sauvie Island Wildlife Area
The Wildlife Area is open — stop by your local ODFW license agent or ODFW office and get a parking permit. At $7 a day or $22 for the season, your ODFW wildlife area parking permit opens the door to a year's worth of wonderful wildlife viewing.
Bald eagles and red-tailed hawks are very active caring for their new arrivals. Anna's and Rufous hummingbirds are back in great numbers and the finches are arriving. The great blue heron rookery is visible from the Walton beach parking lot. Herons generally nest (roost) in colonies in large trees.
The ospreys are building their nests; cinnamon teal, wood ducks and gold finches are arriving.
Find directions to Sauvie Island Wildlife Area on the ODFW Web site.
Springfield Area
Fern Ridge Wildlife Area
Fern Ridge Wildlife Area is open daily for public use providing great wildlife viewing opportunities. (One section of levee in the western portion of the Fisher Butte unit is posted closed to provide wildlife sanctuary during nesting season.)
Look for waterfowl, shore birds, wading birds, songbirds, raptors, reptiles and amphibians. The Pacific tree frog chorus is raucous on warm spring nights.
Photo blinds: Eight hunting blinds located in the East and West Coyote units (located south of Hwy 126) are available for anyone to use for wildlife viewing throughout the summer and provide great photo opportunities. There is an elevated viewing platform in the Fisher Butte unit just south of Royal Avenue that is open year-round.
Visitors are reminded that dogs must be kept on leash at all times. Parking areas are located along Highway 126, Nielson Road and Cantrell Road. Contact the Wildlife Area headquarters, (541) 935-2591, if you have any questions.