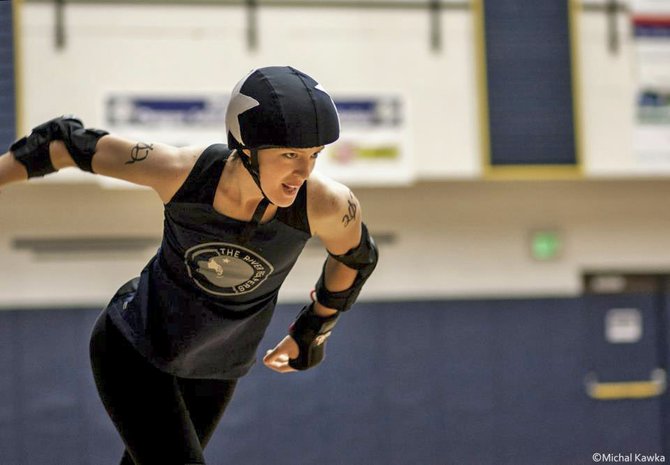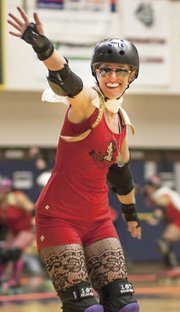 This one was for personal pride, team pride and Columbia River Gorge pride.
In their final home bout of the 2013 campaign, local roller derby teams from Hood River and The Dalles hit the hardwood in an interstate rivalry bout Saturday at Hood River Valley high School.
The score was close throughout, as the skaters battled for dominance on the track, ending at the last whistle with Ginger Binger Danger Hips scoring a match-high 90 points to lead The Dalles Cherry Bombers to a 114-101 triumph in Gorge Roller Girls action.
It was a little bit of revenge for the Bombers, who were previously upended on March 16 by a 139-100 score.
Both teams had the same standouts on skates for this contest with Cinda Rolla, Scoldie Knox, Bad Abbott and Agony Anya Heels in the eye of the roller derby storm.
New to the Cherry Bombers team was Off-Killter, who was very excited to skate in her first sanctioned bout.
She felt good about the way she played.
"I positionally blocked, I stayed with my wall and held the inside line," she said. "All with Reapers pushing into me, I was surprised at how little I fell."
While the Cherry Bombers celebrated a victorious rally, the Reapers were left wondering what the difference was in both matches, especially with a 39-point scoring difference reading down off the scoreboard.
Wreck-Less did her part for the River Reapers with 72 points and others on the roster did their part to help the cause.

Melicious Smackwell competed in her first sanctioned bout, so it took a few turns for her to acclimate to the game, while jamming for the River Reapers.
"It is the hardest position of any sport I have ever played, and these ladies more than earn every point they score," she said of jamming.
There has been a groundswell of support for the GRG program since its inception last March.
In that span, the numbers have grown by a large margin and with that, the crowds have doubled and tripled in size.
Wreck-Less said it is an adrenaline rush once on the hardwood with the crowd hitting a fever pitch.
"There is a great feeling of love and support that comes knowing my family is in the crowd cheering for our team," Wreck-Less said. "However, the feeling that comes from hundreds of people I have never met cheering us to victory is unexplainable. Our fans are the backbone of GRG and to know that they were enjoying themselves was awesome."
The summer holds plenty of roller derby excitement for the Gorge Roller Girls as they travel around Oregon, Washington and Idaho to compete on a regional level.
Their next fast-paced derby event will be June 21 at the Hangar at Oaks Park, where they will take on the Rose City Roller's Fresh Meat skaters.
This league has come so far in a short time, something many of the athletes are very proud of.
With the overwhelming support from the fans, Wreck-Less said they are going to be able to take this league to the extreme for many years to come.
Maytag said it took a few villages to raise this derby league with countless hours from her coach and administrators, S.O.'s, N.S.O.'s, volunteers and the support from sponsors and other local businesses.
"And the fans – from our first appearance last summer at the outdoor rink in The Dalles, to our regulation bout last Saturday night, our fans have learned with us about the game of roller derby," Maytag said. "It is an honor to skate for our community."
The confidence and growth that comes from this sport is visible to Coach Yo-Duh.
"The league has learned in the last few months that anything is possible," he says. "There is no limit to what this league can do."
For more info, go to www.gorgerollergirls.com.