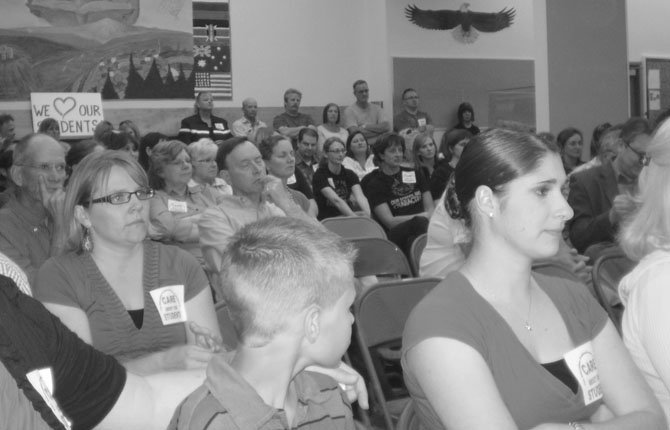 Teachers and classified staff showed up en masse Tuesday night to encourage the school district to do everything possible to successfully settle their contracts before the end of the school year.
"Failing to settle our contract may have fiscal benefits for the district; however it surely has a strong negative impact upon our morale, and will lead to devastating impacts on student learning and growth. We encourage you to move to avoid such a negotiating impasse," read a letter to the North Wasco County School District 21 board signed by over 100 teachers.
Negotiations to replace educators' expiring contracts have stretched on for months. Teachers addressed some aspects of the negotiations during the public comments section of the May 14 school board meeting.
Barb Sanders, a reading specialist, blasted the district for asking teachers to be "flexible" about preparation time and not have a guaranteed break from students during each school day. She said back when she first started working in education she didn't have any preparation time and she began to suffer burnout. Now, she said, she has 30 minutes during the day to contact parents, answer emails, compile data, make copies and regroup.
"Please do not take this oasis away," she said.
Colonel Wright teacher Mary Reynolds said teachers already plan lessons and grade papers outside of their paid work day on a regular basis and they need their preparation time more than ever as larger class sizes create more work.
"Cutting minutes out of the day is a way to force teachers to work for free," she said.
Sylvia Brock, a member of the bargaining team for the educational support professionals, said staff want to settle the contract, but "not at the expense of our families."
"Many of our full-time members have to work a second, sometimes third, job to make ends meet. Many are making less than they did five years ago … we all know the district faces financial challenges but the reality is most ESP staff are facing serious financial challenges also," she said.
In a press release announcing teachers' intent to make a plea to the school board, Education Association president Lance Masters said the association does not believe the district's intent to cut 7.5 positions is necessary.
"Since January, our association has had offers on the table that would allow the school district to avoid the kind of staff cuts that are currently proposed," Masters stated. "We have consistently offered to help the district balance the budget without cutting into programs and increasing class sizes. We are willing to sacrifice for the benefit of the students and families of The Dalles. In exchange we are asking the district for a fair contract."
During the meeting, the board also received complaints about the proposed 2013-2014 budget's plan to cut an elementary physical education position. Physical education teacher Tom Conklin said the district's P.E. teachers have built a quality program and have been working this year to put together an aligned curriculum. He asked why the district would reduce its P.E. program when Oregon has passed a law requiring every elementary school student to have 150 minutes of physical education per week by 2017.
Physical education teacher Rory O'Halloran said the district cannot continue to cut teachers and claim to provide a quality education.
"Right now, we are not providing the quality of education we did 10 years ago, and we all know it," he said.
Casey Miller, a second grader at Dry Hollow Elementary, asked the board not to lessen P.E. time at his school.
"Sometimes P.E. is the only exercise a kid gets," he said. "For kids like me with ADHD, P.E. helps me get the wiggles out so I can pay attention in class."
Superintendent Candy Armstrong told The Chronicle after the meeting that she would encourage any members of the public interested in the negotiations to attend the sessions with bargaining teams, which are open to the public.
"The Board and administration are very interested in settling the contracts and will continue to work with both groups to achieve that goal."