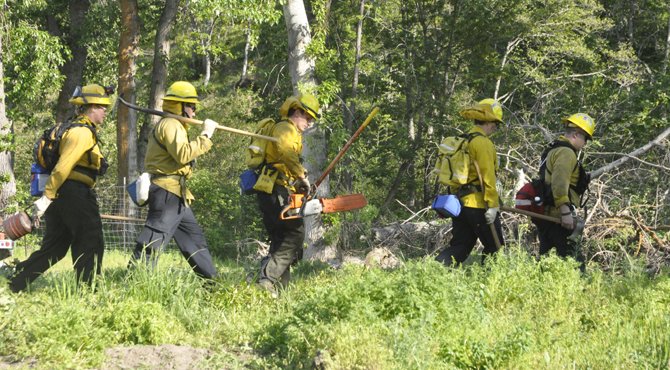 The (Bend) Bulletin, May 12, on cuts in the U.S. government's 2014 wildfire budget
The best time to fight a wildfire is before it starts. Reducing fuels reduces fires. There's less threat to the public, firefighters, trees, wildlife and property.
So why is the U.S. government planning to spend less on reducing fuels for wildfire?
The 2014 budget reduces funding for what's called the Hazardous Fuels Reduction program to $95.9 million. That's a cut of $88.9 million from the pre-sequester level in 2012.
The Interior Department even tried to put some positive spin on the cut, as U.S. Sen. Jeff Merkley, D-Ore., pointed out at a subcommittee hearing Wednesday.
"The 2014 program presents an opportunity to re-evaluate and recalibrate the focus of HFR (hazardous fuels reduction) to align and support the direction in the National Cohesive Wildland Fire Management Strategy and the Federal Wildland Fire Management Policy," a department budget document says.
The Interior Department can do all the re-evaluating and recalibrating it wants. It is not going to make up for cutting the budget for fuels reduction nearly in half.
Sally Jewell, the new secretary of the Interior, responded to Merkley.
"We had to make some hard choices," she said.
Let's look at some of the hard choices.
First of all, the Interior Department's budget for 2014 is $11.9 billion. That's an increase of some $486 million over 2012.
So that means — even with more money — the department is slashing hazardous fuels reduction to pay for something else.
One of the hard choices the department made is to spend more on sage grouse protection. The department is increasing it by $15 million to prevent the sage grouse from becoming an endangered species.
Perhaps the department should add sprinkler systems near sage grouse nests so they don't broil in wildfires.
The department is also increasing by $2.8 million a program called the Youth in the Great Outdoors Initiative. That's pretty much what it sounds like. It gets kids out in the woods. If the woods aren't on fire, one of the lessons could be about how re-evaluating and recalibrating makes up for a 48 percent cut in funding for fuels reduction.
The Interior Department is also one of the federal agencies that takes in more money than it spends. It's expected to get $14 billion in receipts in 2014 or about $2 billion more than it will spend. Rather than shift that "profit," why not keep fuels reduction at least at 2012 levels?
If there is another wildfire in Oregon the size of Rhode Island as there was last year, give thanks to the hard choice to spend less on preventing fires and more on fighting them.