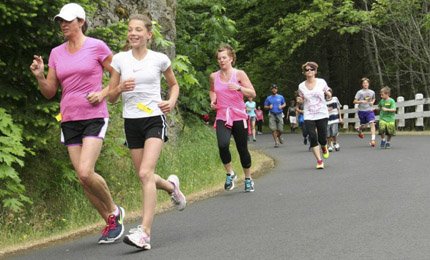 Tunnels run results
2013 Spring Mosier Twin Tunnel Run/walk 3k/5k/12k
Sunday, May 12th
HCRH State Trail, Hood River
3k Male Finishers
Easton Atchley 17:42
Michael Lenke 17:43
Kai Rayle 18:56
Andy Root 20:25
Jackson D 20:28
Julio Murphy Mendez 33:26
Ollie Stevenson 34:03
Sammy Stevenson 34:31
Tim Rayle 40:48
3k Female Finishers
Emma Atchley 17:51
Dezi Gouldy 19:41
Kaitlynn Spino 24:45
Jill Reitz 27:12
Chris Reitz 27:13
Stella Lee 27:48
Nanacy Foley 27:49
Fiona Dunlap 29:06
Joyce Tarby 33:45
Karen Murphy 38:31
5k Male Finishers
Elkin Parker 20:05
Owen Ramsey 21:31
Kohl Garret 26:17
Chase Colwell 26:25
Scott Bryant 26:26
Quincy Atchley 26:40
Ryan Salmon 29:43
Joe Reitz 32:23
Zach Sabina 32:23
Miles Lee 32:31
Kevin Lee 32:38
Bryce Salmon 39:08
Dylan Stolhound 44:09
Bill Clark 47:20
Jergen Hess 50:43
Christopher Montecalvo 51:36
Steve Turner 53:12
5k Female Finishers
Kayla Collins 21:33
Sarah Hall 29:46
Holly Ryan 29:47
Marketa Hart 30:55
Stephanie Hargrave 31:18
Tina Springsted 31:47
Grace Garrett 32:44
Kim Lapierre 33:57
Luci Stevenson 34:48
Lisa Stevenson 34:49
Janette Atchley 37:50
Brooke Remington 37:59
Amy Wenz 38:01
Chrissy Ryan 38:28
Jennifer Zimmalee 44:08
Shamae Juris 47:21
Cindy Ryan 48:02
Pam Morgan 49:38
Sandra Haynie 50:40
Susan Hess 50:40
Ruth Berkowitz 50:41
Teri Spellecy 50:49
Sissy Turner 53:13
Erica Stolhound 57:11
Sydney Stolhound 57:13
12k Male Finishers
Charlie Remington 45:34
Jim Dunlap III 51:30
Javier Meza 54:07
Raul Gonzalez 55:47
Dan Menard 55:54
Brad Anderson 58:38
Bob Fuquay 59:30
Salvadore Medezma 61:07
12k Female Finishers
Shannon Sexton 56:43
Maya Rayle 58:34
Kim Brislawn 58:54
Marge Gayle 61:15
Jessica Crone 61:16
---
Just the top times under 62 minutes were listed by coordinators
Down the stretch they came.
Easton Atchley and Michael Lenke were stride-for-stride looking down on the finish line eye-to-eye.
When they finally crossed the tape, Klickitat, Wash.'s Atchley scored first place with a final time of 17 minutes and 42 seconds, while Lenke had a marker of 17:43 for second place this past Saturday in the 2013 Mosier Twin Tunnels 3k, 5k and 12k run/walk held at the Historic Columbia River Highway State Trail in Hood River.
Also in the men's 3k bracket, Kai Rayle (18:56), Andy Root (20:25) and Jackson D (20:28) capped the top-5 in this field of 20.
On the female side, Emma Atchley added another big win to her records with a solid performance of 17:51 for first place.
Dezi Gouldy placed second in 19:41, Jill Reitz 27:12 and Chris Reitz (27:13) rounded out the top-5.
Mosier seventh grader, Elkin Parker, 14, scored first place in the men's 5k race with a time of 20:05, more than a minute better than Owen Ramsey (21:31).
Kohl Garret (26:17), Chase Colwell (26:25) and Scott Bryant (26:26) all enjoyed significant efforts in the upper ranks.
Beaverton native Kayla Collins had little trouble in her 5k women's try and crossed the tape in 21:33, finishing at a wide margin ahead of her next few competitors.
Sarah Hall ended up in second place with time of 29:46 and right behind her was Holly Ryan, who churned out a 29:47.
Marketa Hart garnered fourth place amongst the women at 30:55, and Stephanie Hargrave swung out to a 31:18 for fifth place in the standings.
The Dalles' Charlie Remington continued his torrid spring pace with another top medal on this day where his time of 45:34 was a lopsided effort in the 12k field.
Jim Dunlap III was good enough for second place with his 51:30, Javier Meza added a 54:07 for third place and Raul Gonzalez grabbed fourth in 55:47, in front of Dan Menard, who placed fifth with his 55:54.
Also on the 12k women's front, Shannon Sexton, of Portland, coasted to an easy 56:43 for a top-flight finish in a highly contest group of 31 harriers.
Maya Rayle inched ahead late for her 58:34 for second place and Kim Brislawn chalked up a 58:54 to come in third place.
Marge Gayle crossed the wire in 61:15 and Jessica Crone ratcheted up a 61:16 to cap the top-5 women.