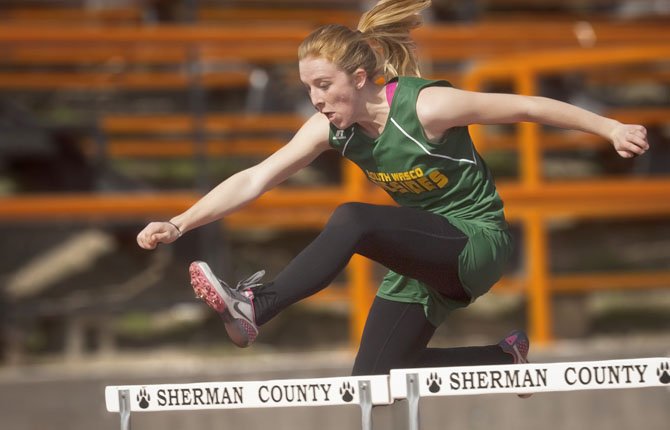 If there was ever a moment to shine on the biggest stage this weekend is the time do so, as four local track and field teams hit the track for their respective meets.
The Dalles Wahtonka kicks off their run at 3:30 p.m. today at Hood River Valley High School for the first of two days of action.
Zach Nerdin is the top seed in 110-meter hurdles with a time of 16.08 seconds and teammate Lio Tunai is currently ranked first in shotput with his long set at 54-feet-11 inches.
Harris Farr maintains his top rank in long jump, where he has a sizeable cushion at 22-3.
Tunai is also a No. 2 seed in discus with his 151-9, right behind Dave Barnett.
At a No. 4 slot is junior pole-vaulter Mark Johnson. He has a top of 11-6, two-feet behind Hood River's Patrick Crompton (13-6).
There are other threats to open some eyes as well, with Elijah Kohltfarber, David Esquivias, Blake Diede and Will McClennan set to make high marks.
On the girl's side of the track, there are no clear-cut No. 1 seeds, but plenty within the top-3.
Yasmin Hill is the No. 2 seed in long jump where her distance of 15-11.75 is less than two inches behind Xayna Robinson.
Maya Barnard-Davidson is No. 2 in the pole vault category with her 9-6 high so far, and Hill is No. 3 with her 9-0 setting the stage for a furious finish.
Katie Conklin is third-ranked in triple jump with her distance of 34-0.
One name who could sneak into the state mix is Brittany Babb; the junior is No. 3-ranked in the 100-and-200-meters.
At 100, she has a top tally of 13.14, less than a half-second behind Hermiston's Jansen Edmiston.
Babb is No. 3 in the 200-meters where time of 26.74 puts her in contention.
Sophomore Olivia Starks is ranked fourth in discus at 92-8, and she is ranked No. 4 in javelin with top toss traveling 100-9.
Big Sky primed for the taking
All of the Big Sky Conference track and field teams were looking up at Condon-Wheeler a season ago.
This year, it appears that there is plenty of competition on hand to dethrone the defending champions.
Starting at 11 a.m. Saturday in Moro, local teams such as Sherman, Dufur and South Wasco County will put their best foot forward in an effort to send full buses to Eugene for three days of action from May 23-to-25.
In looking at the overall numbers, 13 individuals or relay teams in the top-10 ranks in the entire state.
Sherman's Meagan McKinney and Dufur's Taylor Darden have the highest ranks of the bunch with McKinney No. 3 in the 100-meters with her time of 13.20 seconds.
Darden has always maintained her edge in the discus where her top toss sailed out to 112-feet-11 inches.
Darden, a sophomore, is currently No. 4 in the shotput with a 36-6, a small distance in the standings, so she has a very good chance at chalking up another state berth.
In the pole vault, South Wasco County's Katherine Popchock is ranked fifth in the state with her 8-6, but ahead of her is Condon-Wheeler's Deana Harris, whose 9-6 is right up at the top. Popchock's teammate and former state qualifier, Zoe Morelli, is ranked fifth in the 400-meters at 64.54, and in her first season in the 300-meter hurdles, her best time is set at 52.24 seconds, good for sixth in the state.
Sherman's 4x100-meter relay team of Samantha Coons, Brooklyn Sandquist, Andie Harrison and McKinney appear to be one of the groups to catch this weekend, and their 53.62 marker proves to be a tough nut to crack.
That same group is No. 3 in the Big Sky.
That time has them ranked at No. 7 in the state and No. 2 in the district behind Ione (53.27).
Popchock is No. 7 overall in triple jump with a 31-5.5, but in the Big Sky she is No. 2 behind Horizon Christian's Hannah Kempf, who put up a 32-3 at a recent meet.
McKinney is also ranked seventh across the state in long jump and her measurement of 15-10.5 puts her within reach of the top two in the district.
On the boy's side, Dufur strongman Austin Olson brings with him a top Big Sky ranking and No. 8 slot in state distance of 42-3 in shotput and if his current trend continues, he could be amongst the challengers for a state trophy.
Sherman's 4x400 relay team of Nick Coleman, Blake Evans, Brett Evans and tanner Sandquist have been revving it up all spring with some top finishes, as their time of 3:51.81 ranks them in the No. 10 slot in the state.
Evans shows he is not only adept in long sprints, but he can go long distances as well. The junior is No. 10 in the state in the 1,500-meters with his top rally of 4:34.32 setting him up for a good start Saturday.