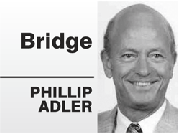 We have been looking at Stayman, but exactly how it operates is influenced by your other no-trump responses.
In today's deal, look at the South hand. Your partner opens one no-trump, showing 15-17 points. After East passes, what would you respond?
The first question is: Does your partnership use transfers into the minors? If you do, you should go via that route, perhaps responding two spades. (And then two clubs followed by three clubs would show a four-card major, long clubs and at least enough points for game.)
If, however, you do not transfer into the minors, traditionally responder bids two clubs, initially treated as Stayman, then rebids three clubs, which is a drop-dead sequence. The responder has a long club suit in a weak hand, and opener is expected to pass. More logical is to play an immediate jump to three of a minor as a sign-off. Then two clubs followed by three clubs shows a long minor (with or without a four-card major), at least enough points for game and either worry that three no-trump might fail and five of a minor make, or interest in a slam.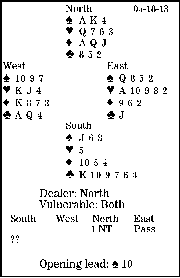 In this deal, let's assume you jump to three clubs as a sign-off. West leads the spade 10. What would you do?
Note that one no-trump by North should be defeated by a heart lead.
Here, you want to restrict your losers to one spade, one heart and two clubs. You should plan to take two diamond finesses and to start the club suit from the dummy (lead up to honors). If your first trump play is from hand, you will have to lead the king to squash East's jack — but why guess?