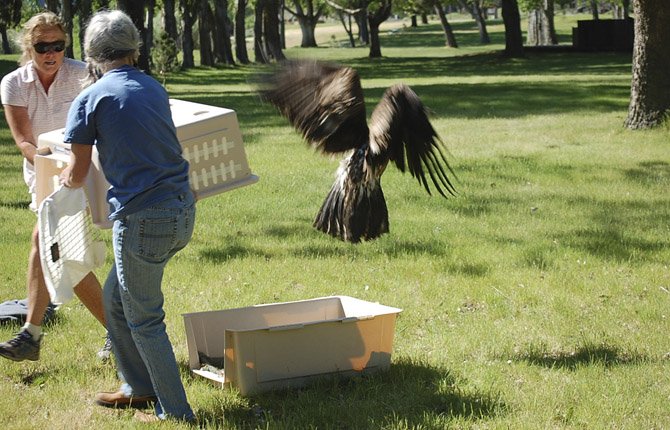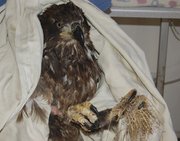 After some hesitation, a young, bald eagle rehabilitated at Rowena Wildlife Clinic took advantage of the freedom offered to him May 7 and flew back into the wild.
The 1-year-old male raptor was found April 15 at Avery Park near Wishram, Wash., unable to fly. An employee at the park contacted authorities at the U.S. Army Corps of Engineers at The Dalles Dam, who then called Rowena Wildlife Clinic in Rowena.
No one knew why the eagle had become incapacitated, and Dr. Jean Cypher, RWC founder and veterinarian, said that blood work showed he was suffering only muscle trauma.
At first the bird was a poor eater in captivity and clinic workers had to rip up his food and offer it to him. Before long, however, he was handling the job by himself and by late April he was "finally wanting to fly," said Cypher.
The eight-pound eagle was ready for release after three weeks at the clinic. Cypher determined that Columbia Hills State Park, west of Avery Park, was a better release site than where the bird was found because Avery is small, sparsely treed and near a busy highway and railroad.
But at Columbia Hills, after clinic volunteers opened the door of the kennel in which the eagle had been transported, the eagle stayed put — even after they stepped behind the kennel to reduce his fear of human confrontation. So after several minutes of waiting, the volunteers decided to unscrew the top of the kennel.
And that's all it took! As soon as sunlight flooded the kennel, the eagle leaped straight up and out. At first, he flew four or five feet off the ground but quickly circled back and perched in a tall poplar tree.
Although this story has a happy ending, other experiences Cypher has had with eagles have not.
In early March she received a sick bald eagle that had been found in the Klickitat watershed. It died five days later of lead poisoning, and she said she suspects the eagle had eaten carcasses of squirrels killed with lead shot.