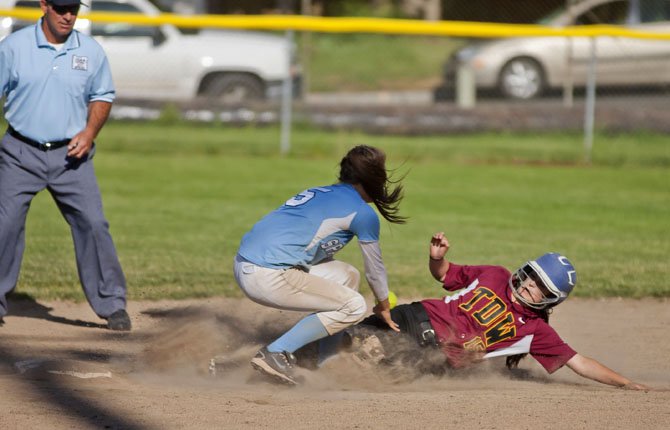 Even with a current run of five consecutive semifinal playoff berths, The Dalles Wahtonka had been cast aside as major players in this 2013 postseason field.
Not so fast.
Hannah Harris and Morgan Triperinas rapped out three hits each, and Katherine Kramer homered and drove in five runs to lead the No. 15 Eagle Indians to a 15-5 mercy-rule win over Corvallis Friday on senior night in The Dalles.
"We went into the game with a seventh-inning mentality, like every inning we played was our last chance," senior infielder Kella DeHart said. "We had to play it to our fullest. We knew we could not let up at all, because we still have a lot to play for."
If the season is to progress accordingly, a welcomed sight Friday night was the bats.
After being held to a 1.75 run-per-game streak in their last eight contests, TDW reeled off its highest run total since April 8 in a 16-4 triumph over Mountain View.
With great ferocity, the Eagle Indians stroked 12 hits, including a combined 8 for 11 split with eight runs and eight RBIs from the top-3 in the order (Hannah Harris, Triperinas and Kramer)
"I think we showed today that this is the team we are," Kramer said. "It has been a little rocky in-between, but I think this is who we are. We hit the ball like crazy, we had awesome defense, awesome pitching, so I think we take anybody as long as we play together and have the offense we showed today."
In the bottom of the fifth inning, TDW held an 11-5 edge and had a mercy-rule within grasp.
Senior Shaela Buchanan started with a walk, and with the next hitter, Harris at the plate, she swiped second base.
Harris reached safely on an infield single to short to put runners on the corners.
After a stolen base by Harris, Triperinas roped a two-run single to left field chasing home Buchanan and Harris to make it, 13-5.
On the play, Triperinas scooted to second base, and with that, the Corvallis brain trust chose not to pitch to the all-state slugger, Kramer, so an intentional pass was offered.
Taphouse then reached on a fielding error to load the bases for DeHart.
The senior hit a shot to the Corvallis shortstop, who then tried to force out Triperinas at home, but the throw was wild and bounced off the Spartan catcher's glove and to the backstop.
Triperinas slid in safely to make it 14-5, and then Kramer got on her horses and cruised in for the game-clinching tally.
"It was so important for us to get the win tonight on senior night," Taphouse said. "I love it because it just gives us momentum for that next game and a desire to win. But, tonight was so important. [It comes down to] talking to each other, being focused and being tough out there on the field. I think we did a good job of that tonight."
For all of the glory and well-wishing, Corvallis actually tried their hardest to rain on the parade with three runs on four hits off Taphouse to take a 3-0 lead.
Natalie Gonzales had an RBI double and Madeleine Edwards smacked a two-run home run.
TDW evened things up with three runs in the bottom of the first and tacked on four more to the scoreboard in the second frame to swell their cushion out to 7-3.
The Spartans inched closer with two runs in the top of the third inning, but in the home half of the third, Triperinas hit a run-scoring single to bring in Katie Helyer, who led off the inning with a single.
With TDW up 8-5 and one out, Kramer stepped to the plate with Harris on second and Triperinas on first.
The Tribe catcher battled Colette Stein in a seven-pitch at-bat, but on the seventh pitch, Kramer rifled a line drive home run over the left field fence to make the score, 11-5.
Harris went 3 for 4 with three runs scored, Triperinas added another three hits, three runs and two RBIs.
DeHart added two hits and an RBI, Morgan Goslin drove in a run and Helyer finished 1 for 3 with a run scored.
From the circle, Triperinas tossed three innings of six-hit ball with two strikeouts and a walk to notch the win in relief.
This week had been tough for the six Eagle Indian seniors, who were possibly facing their final few days as members of the program.
The feeling is bittersweet in many ways.
It is the realization, however, that this joyride has just begun.
Their coach Steve Garrett feels that way.
"I want to start pumping that to the girls," the coach said. "We have some posters that say, 'The legend rolls on.' I say, 'why not us?' We can keep it going. If we play team ball and do our job when called upon, you never know what can happen. It was a solid team effort today and if we can keep doing that, we can compete with any team out there."
TDW (12-15 overall) is the No. 7 seed and next travels to No. 2-seeded Churchill (20-5) to the next round on Wednesday.