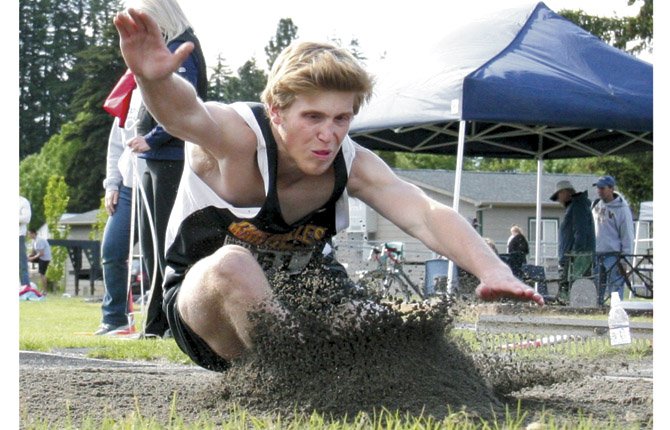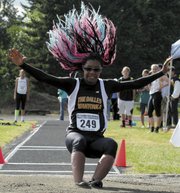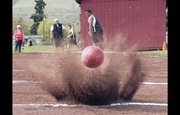 Lio Tunai, Harris Farr and Yasmin Hill did not wait long to punch their individual district crowns for berths in the upcoming state meet in Eugene.
Tunai makes a return trip after beating the field in the shotput classification with a distance of 53 feet 6.5 inches for top honors.
Farr re-wrote the history books in his long jump event, as he traveled 22-5 to win a district title and set a new The Dalles Wahtonka combined school record from 22-3.
Hill entered the long jump event as the No. 2 seed behind Pendleton's Xayna Robinson, but she flew past Robinson into a class of her own in a measurement of 15-10.5 to hoist her crown.
"I am excited for them. Their hard work paid off," said TDW coach Garth Miller. "They showed that they could compete at a high level. It is a great opportunity for them to compete in that venue at the University of Oregon against all that quality competition."
Farr also advanced to the finals in the 100 meters and teammate Michael McDonald entered the finals in both the 200 and 400.
Brittany Babb is one step away from state in the 100 and 200 and a solid finish put her on the state bus.
She finished in fourth place in her tries, with a mark of 27.60 seconds in the 200 and 13.43 in the 100.
Miller also mentioned the efforts of Joey Duong, who had a toss of 128-10 in the discus for sixth place, three slots behind Tunai, who missed on a state berth after his 141-1.
Sant Strassheim added a 19-10 for fifth in the long jump, Damion Morris (18-1) was eighth and Jake Albrecht 11:25.60 for 11th in the 3,000 meters.
Alyssa Carrico had a 90-1 in the javelin for fourth place, and Ana Gonzalez was good enough for fifth after her personal-record throw of 89-3.
Senior Anna Daggett finished her career strong with a personal record under her belt in the 3,000-meters, where she timed out at 13:41.55.
Katie Conklin had a 4-10 in high jump for fifth place and Katie Burns placed fifth in the 300-meter hurdles at 49.94.
Annessa Clear ended up seventh in the 100 at 13.76, Emily Morin had a 11:42.11 in the 3,000 and Hannah Mazeski rolled out a 15.01 in the 100 to wrap up the girl's particpants.
"All these kids did their best and I am happy with that," Miller said. "This is a tough league and I know they wanted to do well against some good athletes, but they gave it their shot and that is all I can ask for."
There were still more than a handful of opportunities to attach more names to the state list with just the field events and jumps taking place Friday.
As it is, Miller likes where his team stands as a whole.
"The kids really competed well today," he said. "I challenged them to set a high goal for themselves and go after it, so they could walk away feeling good about their effort for the season. They rose to the occasion today and really did well as a group."