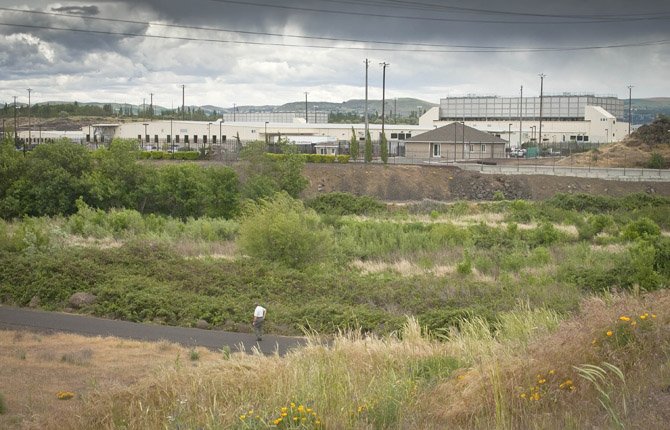 In the saga of local building projects like Walmart and the regional jail's Dakine building, the U.S. Clean Water Act's wetlands rules have been seen as the "ogre" that has held development at bay, in some cases for years, but a new committee is working on a way to resolve wetlands issues before specific construction is even contemplated.
The newly formed Technical Advisory Committee is in the beginning stages of work to develop what is called a Regional General Permit. The permit will be an agreement that defines high-priority wetland areas that demand protection, high-priority development areas vital to the community's economic development, and measures to compensate for other wetlands that must be filled in.
"We are tasked with the goal of finding ways to eliminate barriers to development," said Michael Held of the Port of The Dalles, who coordinates the committee.

The committee came about under the direction of the North Central Regional Solutions Team, a process sanctioned by Oregon's governor and designed to work at the local level to identify priorities, solve problems and seize opportunities to complete projects. The regional solutions team targeted industrial land development as a top priority, Held said.
With that priority in mind, the committee set about the task to find ways to reduce the time from application to construction, the cost of development, and the permitting process.
The Regional General Permit is designed to get a wetlands process in place and approved ahead of time so individual developers don't have to wait what can be years to gain approval from state and federal authority. Such permits aren't common as of yet, but they aren't unknown, either.
Bay County, Florida, has such a permit in place for one large property owner.
"The St. Joe Company is sort of the 800-pound gorilla up here," said Martin Jacobson, community development director for Bay County. "They're the largest private property owner in Florida."
The company had a large undeveloped piece of land in Bay County that they wanted to develop.
"It had quite a few wetlands on the property that had to be filled, so the St. Joe Company approached the U.S. Army Corps of Engineers and the Florida Department of Environmental Protection and got a Regional General Permit."
Jacobson's department doesn't have much to do with the permits. They are administered by state Environmental Protection, but he does know the permit has speeded up the process from years to months.
"St. Joe's ecstatic," Jacobson said. "They're really happy. They worked years to get this through."
Local, state and federal authorities are hopeful the same kind of permit can help end regulatory delay to development here. Oregon already has one Regional General Permit process under way, a much larger project involving six cities, 20 sites and 40 or more property owners in Linn and Benton counties.
"We picked a tough one," said Kirk Jarvie with the Oregon Division of State Lands. "If I had it to do all over again, I would have started with The Dalles."
The industrial lands targeted for The Dalles' General Regional Permit total about 400 acres and involve just a handful of owners.
Linn-Benton's effort has been under way for several years now and is in the approval process. Jarvie is hopeful the process in The Dalles takes less time.
"The challenge we have is that, whether in The Dalles or the Linn-Benton region, we have a constrained industrial land supply and very, very limited options to create a new industrial land supply," Jarvie said. "That's particularly true in The Dalles. Not only co you have the state land use planning program that has a lot to say about that, you also have the national scenic area that heavily controls land uses. On top of that, you have topography or geology. There's not a lot of flat land and most of it is down by the water. As a result, we know, or at least have good information that much of the industry land supply has some amount of wetlands."
The Technical Advisory Committee has drawn together not only the port and the Division of State Lands, but quite a few other organizations including the City of The Dalles, Wasco County, the U.S. Army Corps of Engineers and others.
"After the Walmart application and the difficulty they've had getting approval for their development site, it became apparent to us that there's substantially more wetlands out in our industrial lands area than we knew about or thought," said Dick Gassman, director of the city Economic and Community Development Department.
Those wetlands haven't yet been delineated, the first step in the Regional General Permit process.
"Because no one has done that, it's difficult to know how much land we have for development," Gassman said. "So we've been looking for ways to get more information and find out which development sites are developable and which ones may not be realistically developable, or are at least reduced in area."
The cost for such a delineation is estimated at about $100,000 and Held has written an application for a federal grant to help pay for such a process.
"I think the concept is a good one," Gassman said, "but there are a lot of challenges at each step and, of course, getting the money to do the study and acquire the property is another challenge."
Wasco County Planning Director John Roberts is enthusiastic about the efforts.
"It's almost like starting with the end in mind," Roberts said. "My impressions are it's the absolute right thing to do and I feel like it has great traction. My sense — and I've had limited involvement so far — is that the goals are very clearly defined. They've set concrete priorities and this is a good sort of intergovernmental approach to get results."
Roberts said he had experience with similar efforts in his former job in Colorado. He added that the wetlands effort is critical to the urban growth boundary expansion discussion.
"This is all playing into where we should expand and where we should not expand," he said.
The idea, Roberts said quoting Held, is to create "predictability."
"From that, they can then develop more sound recruitment strategies for businesses," Roberts said.
Several committee members are hopeful that a final Regional General Permit can be achieved within a year or two. Once completed, it can be valid for five years, with the prospect for another five-year renewal.
There's a good likelihood that the plan will require development of new wetlands elsewhere in the watershed, which reaches from Cascade Locks to Celilo.
"More practically speaking, we really want to look for mitigation toward the east end of the watershed," Jarvie said, "because The Dalles is more like the eastern end of the range."
Held is excited about developing a process that could mean a quicker route through the regulatory obstacle course, although individual developers will always have the option of forging their own paths, if they feel it would be beneficial.
"This process we are going through today is much better than waiting five years when you want to develop a project," Held said. "We know what the environment is today. It's better to do it now than 10 years from now, when the requirements to mitigate may be so significant and costly that it may not make sense to develop."
Held sees the Regional General Permit as having applications beyond wetlands, too.
"There's a lot of potential to create and find other areas where the agencies and interests can come together to expedite the process," Held said. Species and cultural resource protection are two such areas that came to his mind. "We're trying to be the lead organization to bring the necessary people to the table, keep them there and find areas where we can work together."