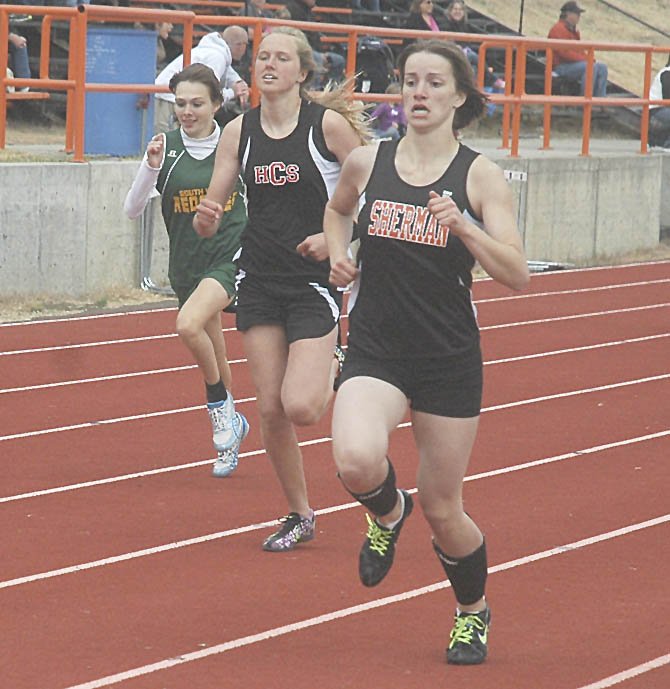 Moro — By spending so much time together on and off the track, the Sherman 4x100-meter girl's relay team has developed a rhythm and flow through hours of practice and repetition.
It is through those many hours of due diligence that lent a hand in the group of Samantha Coons, Brooklyn Sandquist, Andie Harrison and Meagan McKinney grabbing top district honors in Saturday's Big Sky Conference track and field meet in Moro.
Ranked No. 1 in the district entering action, the Huskies had a top time of 53.62 seconds, but when the stakes were raised, that quartet motored home for a 52.99 to finish ahead of Ione (53.74).
"We are so excited. We are so grateful that we were able to come out on top," said Harrison. "Now we are headed to state and I know the seniors that are on the relay team are excited that their last performance in track will be at state."
Harrison admitted that there some extra motivation in getting Sandquist and Coons back to Eugene for a final dance.
"It meant everything to us," Harrison added. "I know our 4x100 is one of the most important things to us and it meant everything to get the seniors there and ourselves there as well. I am happy we were able to do as well as we did."
McKinney and Harrison tacked on one other district crown apiece in their respective races, with the sophomore McKinney racing past Horizon Christian's Hannah Kempf in a scorching time of 28.71.
Harrison did her deed in the 400, where she inched ahead late for a marker of 1:06.28, .39 ticks in front of Horizon Christian's Marlie Bloomster (1:06.67).
"It is very, very exciting to be able to cross the finish line at first or even second place to know that it all wasn't just for this meet, but it was for a bigger purpose – to get to state," Harrison said.
McKinney completed the state trip trifecta by notching second place in the 100-meters where she stopped the watch in 13.44 seconds, just ahead of Coons (13.78), who wound up third.
McKinney had a chance at picking up four invitations, and she came close in the long jump, where her distance of 15-08, put her three inches behind Ione's Shadow Kendrick (15-11.75).
Coons made up for it in the triple jump event in second place with a 32-feet-2 inch leap, a mark that put her a half a foot ahead of third-place finisher, Katherine Popchock, of South Wasco County and two-feet behind Condon's Ellie Logan.
Harrison ended up being edged in the javelin, where she had a toss of 108-3, but could not get ahead of second-place finisher, Emily Holland (116-02), of Ione,
The Sherman girls were right on track with 87 points to finish in second place behind two-time district champion Condon-Wheeler (99).
On the boy's side, the Sherman boys racked up 42 points for seventh place in the field, as Condon narrowly won its second-consecutive district crown with 80 points, one digit ahead of Ione (79).
In the 800, Brett Evans scored a district crown with his 2:11.11 and teammate Tanner Sandquist chalked up an invite for second-place recognition with a 2:13.63 – a time that had him in front of South Wasco County's Colton Nannini (2:14.00).
Blake Evans just missed out on a state berth in the 200, where he placed third in 25.23, and Brett Evans added a third in his try at 3,000-meter with a mark of 4:45.13.
The Sherman team heads out to Eugene for Thursday's preliminaries on Wednesday.