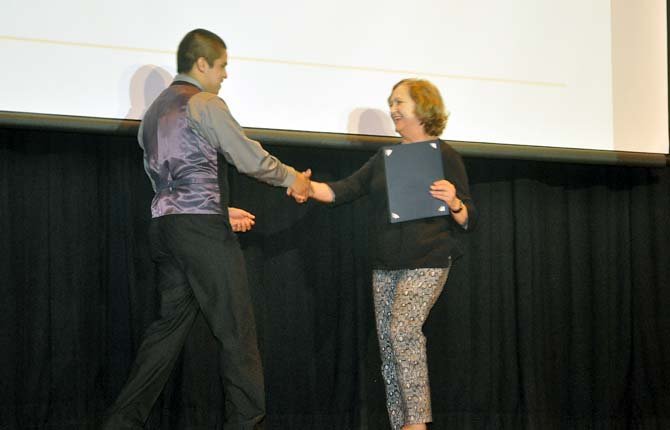 The Dalles — Students were recognized for their leadership, attitude and work ethic during The Dalles Wahtonka High School's first Evening of Excellence on May 15.
The event, hosted by the National Honor Society, was meant to recognize students "who, in the judgment of their teacher, have displayed that outstanding 'spark' and love for learning in a particular class," according to George Zenker, a National Honor Society student who introduced the event.
"In many cases the recipient may not be the student who earned all A's in course work but rather that should who stands out and demonstrates love and enthusiasm for the subject," he said. "Quite often this student is one who serves as a positive role model for all other students to follow."
Approximately 45 awards were given out. Each student receiving recognition was handed a certificate as a National Honor Society student read what the teacher who had nominated them wrote about them.
Math teacher Ty Wenzel recognized Natosha Johnson, who she taught as a freshman and now has in her class again.
"She has a passion for learning of all kinds … I am positive I have not seen such an improvement in a student in all of my 23 years of teaching," Wenzel wrote.
Peny Wallace, an art teacher, recognized Katherine Kramer for her hard work and leadership in meeting her deadlines for the yearbook and helping others do the same.
"She was a tremendous help to yearbook club with her winning attitude and positive commitment to yearbook," Wallace wrote.
Students were recognized in math, the arts, language arts, science, physical education, career technical education and special programs.
Some were complimented on their attitude, others their sense of humor or their respectful treatment of teachers and students. Some students received awards from multiple teachers. Often teachers would mention barriers the students had overcome, like working two jobs outside of school or learning in a second language after moving to the United States as a teenager.
Tegner Weiseth, staff supervisor for the National Honor Society, said the Evening of Excellence was begun as a way to encourage community, teacher and parent support for students.
Awards were given to the following students:
Principal's Award:
Katie Conklin
Mathematics:
JasminHuila
Natosha Johnson
Christian Benson
Sydney Langer
Luis Gaeta
Mary McIntosh
Jorge Gutierrez Arellano
The Arts:
Lauren Chavez
Destiny Aytes
Katherine Kramer
Natalie Williams
Ashley Robertson
Cece Pincock
Carsen Cordell
Lilly Ley
Zach Whitmire
Language Arts:
Louis Gaeta
Colton Lee
Ema Erikson
Riley Nelson
Jacob Congdon
Joasa Bowers
Bryan Sanchez
Science:
Blake Diede
Max Macclennon
Grant Pearson
Katie Burns
Cece Pincock
Ashley Munsen
Miranda Schell
Physical Education:
Lori Cimmiyotti
Career & Technical Education:
Amanda Cimmiyotti
Max McClennan
Special Programs:
Kristina Settje
Ashley Kumm
Jaqueline Quintana
Mayra Delgadillo
Sergio Orquiz
Daniela Torres
Raquel Torres
Cristian Aguayo
Francisco Delgadillo
Bryan Sanchez