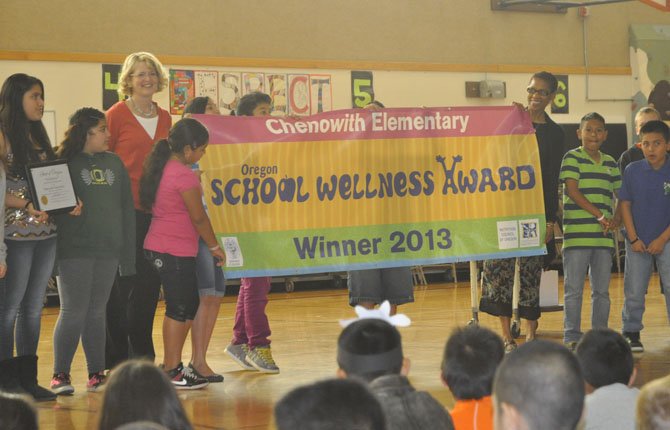 The Dalles — Students and staff at Chenowith Elementary School were celebrated Monday for their commitment to healthy living.
The school was one of three in Oregon recognized with the 2013 Oregon Wellness Award. It has also been recognized for its health efforts with a prestigious silver level award by the Alliance for a Healthier Generation.
On Monday Principal Anne Evans was presented with a check for $2,500 for the Oregon Wellness Award.
"How cool is this?" she asked, cheering students. She told them they were on their way to being happy, healthy adults in the future.
Joyce Dougherty, director of Child Nutrition Programs at the Oregon Department of Education, said despite an increase in applications for the award, Chenowith stood out.
"They've done phenomenal work," she said. "They've been doing it for some time and it shows."
Dougherty said the wellness award was meant to highlight schools that had a "living, breathing" wellness policy and not just something that sounded nice on paper. Chenowith, she said, practices health in a variety of ways.
"They're one of the few schools in Oregon to have a fresh fruits and vegetables program," she said, explaining that the program gives students daily exposure to fruits and vegetables that they might never have occasion to try at home. Staff members eat the unusual produce with the students, which she said makes a big difference to how willing the students are to try it.
Anne Goetze, director of nutrition affairs for the Oregon Dairy Council, said that Chenowith is strong in all areas of health, but is particularly strong in nutrition.
She said she appreciated that the school provided a free breakfast to all students every day, giving them all the opportunity to start out the day on the right foot with the nutrition they needed to concentrate in school.
She also said that she was impressed with the level of outreach and nutrition education the school provided to parents.
"Parents can learn how to make healthy meals on a budget, making sure the kids get the nutrition they need outside of school too," she said.
In the write-up accompanying the award, the Department of Education also praised Chenowith for exercise initiatives like in-class "energizer breaks," Jump Rope 4 Heart, Shape Up Across Oregon, encouraging children to walk and bike to school and jog-a-thon fundraisers.
Academic gains
Principal Anne Evans told the North Wasco County School District 21 board during their May 14 meeting that she was proud of the school for winning the wellness award.
She also told directors she was proud of the academic progress the school was making and said despite its designation as a "priority school," after its first year of the designation it is on track to be a model turnaround case.
"Chenowith is going to be put back on the map, this time for the right reasons," Evans said.
After a preliminary round of testing, 56 percent of fourth graders made growth in math and 86 percent made growth in reading. In fifth grade 73 percent of student grew in math and 78 percent of students made growth in reading. Evans said the average growth for those categories was over a year's worth of reading and math levels.
She said subgroups like English Language Learners and special education students made well over a year of growth in less than a year.
"The staff and students worked their butts off and it shows. It's amazing," Evans said.
She invited teacher Kirky Stutzman to share her experience with the students' growth. Stutzman credited an approach in which teachers sat down with individual students and explained to them their scores from last year, what the state would like them to achieve and then had them set goals for themselves.
"When scores are announced kids are clapping and hugging each other," she said. "There is a climate of can-do and all of the kids are completely backing each other."
Teachers in the audience at the meeting, including Evans, wiped away tears as Stutzman described how ecstatic kids were every time they made an improvement and how they will rush up to her to tell her their scores and ask how many points of growth it translated into.
Evans also told the board she has seen a more positive culture at Chenowith and said that disciplinary referrals have been reduced 21 percent from last year.