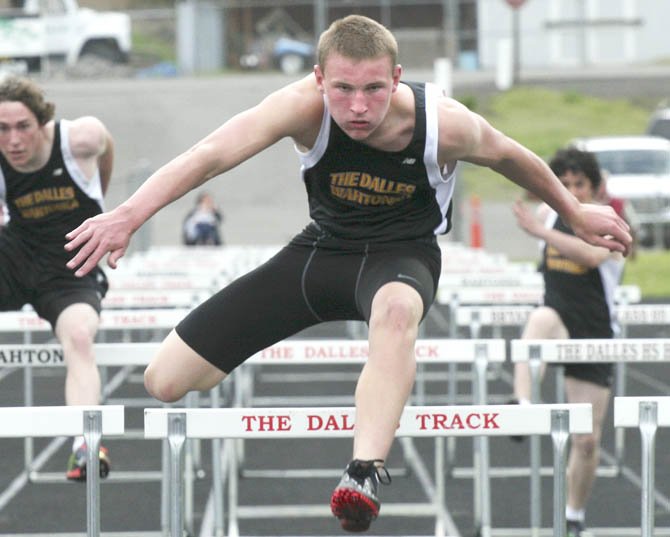 HOOD RIVER -- Through one day of field events at the 5A Columbia River Conference district track meet at Henderson Community Field in Hood River, The Dalles Wahtonka had three athletes joining the state parade.
After Saturday's second run, that number doubled, as Katie Conklin, Maya Barnard-Davidson and Zach Nerdin extended their season by another week with state-qualifying performances.
Conklin's top effort in the triple jump came at an opportune time when the season was on the line.
She was on the outside looking in at third place with two jumps remaining, but she had the magic touch.
On her final attempt, the sophomore jumped to 33-feet-8.5 inches to capture first place and a district crown, by a margin of 1.75 feet, ahead of Pendleton's Xayna Robinson (33-6.75) and 2.5 in front of Amanda Fowler (33-6), also of Pendleton.
"That was exciting," said TDW head coach Garth Miller. "She had a hurdle race in the middle of that, so I think that helped her. It warms the kids up more than they already are and it gets their minds off the heat of battle that they are in. She just came back and nailed it. That was just a clutch performance on her part."
With Conklin setting the winning trend, Barnard-Davidson followed suit in the pole vault. The senior had a final chance to make state reservations and she nailed a height of 8-06 to edge out teammate Yasmin Hill (8-6).
Nerdin had been knocking on the door all season, so for the junior to knock his 100-meter hurdle run out of the park for second place was gratifying for Miller.
Nerdin ended up with his second-best time of the year at 16.15 seconds and was .28 ticks behind Pendleton's Joel Boozer (15.87).
Last year, TDW had five qualifiers in six events and this year there were six, with four district winners, so there is ground being made.
"Those guys (who qualified on second day), we knew they could get to the state meet, but they were just going to have to get it done on their day at the district meet," Miller said. "They did it, so that is a good thing for them."
That trio joins Lio Tunai, Harris Farr and Yasmin Hill who netted their individual district crowns on Friday.
Tunai makes a return trip after beating the field in the shotput classification with a distance of 53-feet-6.5 inches for top honors.
Farr re-wrote the history books in his long jump event, as he traveled 22-5 to win a district title and set a new The Dalles Wahtonka combined school record from 22-3.
Hill entered the long jump event as the No. 2 seed behind Pendleton's Robinson, but she flew past her foe into a class of her own in a measurement of 15-10.5 to hoist her top trophy.
Hermiston swept the field in both the boys and girls categories.
The boys scored 237 points, Hood River Valley had 161, Pendleton racked up 125 and TDW ended up with 102.5.
"Hermiston has a lot of depth. They have big numbers and they were picking up points because they were placing kids in several events," Miller said. "Hood River is the same. They have many talented athletes. When you talent and numbers, you can do some damage. We are running against some good teams in our league. Their teams came through and competed well."
Farr motored home in 11.28 for third in the 100-meters, David Esquivias placed fifth in the javelin at 139-04, Mark Johnson had an 11-06 for third in the pole vault and Will McClennan ended up sixth in the 110-meter hurdles at 17.04.
Michael McDonald placed fifth in the 400 and Elijah Kohltfarber (2:10.25) and Grant Pearson (2:10.27) did good work in the 800.
Hermiston worked a big difference in its point total on the girl's side with 192, besting Hood River Valley (179) by 13 points.
Pendleton (150.5) secured fourth place and TDW notched a 114.5 for fourth in the standings.
Brittany Babb scored fourth in the 200 at 27.81 and she was good for fifth in the 100 with her tally of 13.47.
Avery Cardosi was fourth in the 400 (1:04.72) and Marta Gamez (2:43.86), Caela Dunagan (2:51.49) and Audrey Miller (3:01.10) put up some good performances in the same event.
Billie Wilson had a fourth-place slot in the shotput (30-00), Hannah Schechtel (88-03), Wilson (86-07) ended up in the top-5 discus throwers, and Alyssa Carrico (90-01) and Ana Gonzalez (89-03) placed high in the rankings.
Conklin had a 17.71 in the 100-meter hurdles for fourth place, and Katie Burns was just edged out of state qualification in third place with a 48.89 in the 300-meter hurdles.
"She ended the season well," Miller said. "It was a nice surprise for us. She has worked hard all season. She was closing hard at the end of the race, but ended up 3/10ths of a second from state."
Most of this group is coming back, so Miller and the coaching staff has some building blocks in place.
"We will have the other five qualifiers back and we have some other kids that placed at districts and ended their season on a high point showing improvement," Miller said. "We have some younger kids who will be coming through the ranks and they can add to the ranks next year."
Now Miller has his group focused on this weekend's state meet. It is all about fine-tuning things for this final stretch.
"It comes down to the quality of practices not the quantity at this point," he said. "We will just get down there and get on the track and get a workout on Thursday before a competition to get the feel for that venue. Then they will have to come out and do their job Friday and Saturday."