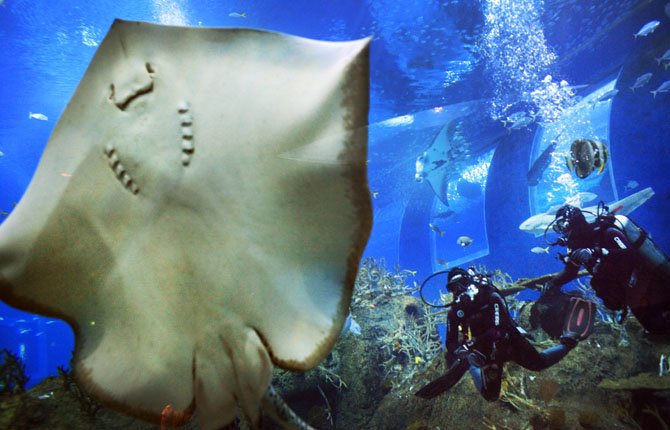 Toxins found in Chinese rice
BEIJING (AP) — Authorities are investigating rice mills in southern China following tests that found almost half of the staple grain in one of the country's largest cities was contaminated with a toxic metal.
The mills in Hunan province's Youxian county were ordered to suspend business and recall their products after samples showed excessive levels of cadmium, according to an official notice issued Tuesday by the county government.
It said the mills had been operating legally and sourced their rice from local farmers.
The announcement followed reports over the weekend that government inspectors discovered that 44.4 percent of rice and rice products tested this year in the southern city of Guangzhou in Guangdong province showed high levels of cadmium. The carcinogenic metal can seriously damage the kidneys and cause other health problems.
Ex-IRS head denies knowledge
WASHINGTON (AP) — The man who led the Internal Revenue Service when it was giving extra scrutiny to tea party and other conservative groups seeking tax-exempt status told Congress on Tuesday that he knew little about what was happening while he was still commissioner.
Douglas Shulman, who vacated his position last November when his five-year term expired, told the Senate Finance Committee he didn't learn all the facts until he read last week's report by a Treasury inspector general confirming the targeting strategy.
In his first public remarks since the story broke, Shulman said: "I agree this is an issue that when someone spotted it, they should have brought it up the chain. And they didn't. I don't know why."
Myanmar sentences Muslims
MEIKHTILA, Myanmar (AP) — A Myanmar court sentenced seven Muslims to prison Tuesday — one of them to a life term — in the killing of a Buddhist monk amid deadly sectarian violence that was overwhelmingly directed against minority Muslims but has not led to any criminal trials against members of the country's Buddhist majority. As the country tries to rebuild democracy after decades of military rule, the issue poses a dilemma for politicians who would lose support if they embraced justice for the unpopular Muslim minority.
Opposition leader Aung San Suu Kyi, who spent years under house arrest under the former ruling junta but now hopes to bring her party to power, spoke of the law but not of sectarian tensions when asked about the verdict.
More women jailed for morals
KABUL, Afghanistan (AP) — The number of Afghan women and girls jailed for "moral crimes" has risen dramatically in the past 18 months, raising concerns that gains in women's rights might be reversed with the withdrawal of most international troops next year, a rights group said Tuesday.
New York-based Human Rights Watch said 600 females are now detained under charges listed as moral crimes, a catch-all category that covers running away from home and sex outside of marriage. The number of females behind bars has jumped by 50 percent since late 2012, it said.
Many women who report rapes to police find themselves arrested for adultery, and many who flee violent abuse or forced marriages are jailed for running away from home, though that is not a crime under Afghan's criminal code, said Phelim Kine, Human Rights Watch's deputy director for Asia.
"The majority of women and girls imprisoned for 'moral crimes' are actually victims themselves," Kine said.
Of the 600 females now detained for moral crimes, about 110 are girls under 18, almost all of them charged with running away from home, said HRW's Afghanistan researcher, Heather Barr. Many prosecutors cite provisions of Shariah Islamic law to order the detentions based on "intent to commit adultery."
The number of women and girls jailed for alleged loose morals is the highest since the ouster of the Muslim fundamentalist Taliban regime in 2001, Barr said. Activists fear that hard-won women's rights, one of the most visible improvements since the U.S. invasion, are in danger of eroding.