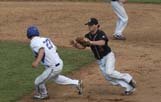 Dufur — It has been business as usual for the Dufur Ranger baseball team, as it kicks off the start of the 2013 state playoffs on the road in John Day at 4:30 p.m. tonight against No. 1-seeded Grant Union.
"I am excited. It is our first time to state in about six years I believe, so it should be good," said all-league first baseman Josh Keyser.

Even after Saturday's 8-3 Big Sky Conference district championship loss to Stanfield, Dufur head coach C.S. Little saw some good glimpses from his group overall.
The Rangers rattled off eight hits against a solid pitcher in Bryce Linker, but for most of the game, some other good connections went straight at Stanfield defenders, so maybe the score would have different.
Nonetheless, the show must go on, and if the Rangers can get on a roll, they can get another shot against Stanfield.
In facing Grant Union, Dufur starter Cole Parke will face an offense that has scored 297 runs, second best in the 2A/1A ranks.
This crew has gone 9-1 in their last 10 games with their only loss coming on May 8, an 8-5 setback versus 4A Ontario. In this 10-game stretch, Grant Union has scored 161 runs and allowed 19.
On May 3, they ran up the score in a 29-0 drubbing of Pine Eagle and they are coming off a two-game sweep over hapless Elgin, where they posted scores of 17-0 and 30-0 in the sweep.
Grant Union pitcher lane Williams also threw a no-hitter in the Pine Eagle sweep.
"Their offense is solid one-through-nine as far as hitters are concerned," said coach Little. "We got to have a good performance out of Parke. He has to minimize his walks and hit his spots. Grant Union has some good hitters, so he is going to have to be real careful where he pitches. Location is key." In facing similar teams, Grant Union is 4-0 against Blue Mountain Conference teams with wins over Pilot Rock, Weston-McEwen and two versus Stanfield by an average margin of seven runs.
Dufur scored 43 runs in eight games against those three and went 4-4.
"We can play with anybody on a good day," Little said. "It is going to boil down to the old pitching the ball, throwing the ball, catching and hitting the ball."

Offensively, Dufur is ranked ninth in the state with 204 runs scored. Nine times the Rangers have scored 11 runs or more and they are 9-0 when that happens.
They are also 4-2 in games decided by two runs or less.
Regardless of the outcome, Dufur's Trever Tibbets is proud of his team. When there were thoughts that Dufur would struggle this season, they came out with one of their best seasons in recent memory.
This next playoff game can only further establish confidence in the locker-room.
"I am really proud of my team," Tibbets said. "We all worked hard and did our best. We came this far and we will try to keep going. It is important to come back and work even harder and keep our heads up."

The winner of this game plays in the next round versus either Oakridge or Knappa.
------
2A/1A BASEBALL State Playoff Schedules (All games played on May 22)
------
Winners advance to next round on May 24 where lower seeds host