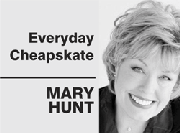 I know I go on and on about my laundry detergent recipe (find it at EverydayCheapskate.com), but I get so excited when a product does a great job and costs just pennies. What I'm really loving now is hearing from readers with their feedback.
LAUNDRY DETERGENT CLEANS UP. Before I began repainting my kitchen — including the floor — I wanted to wipe everything down. I made up a batch of Mary's laundry detergent and added a couple of ounces of the detergent to a quart of hot water. I used this and an old rag to clean the walls and woodwork. It worked like a charm, and with very little effort. I tried it on the floor (painted plywood subfloor), with the same result. I wondered if it would work on windows, and tried it on a really filthy one. It did a great job, though it required a little elbow grease because the window was so gross. — Edie, Maine
KITCHEN SCISSORS HANGING OUT. It seems that more and more foods come in packages that have to be opened with a pair of scissors. I was frustrated having to dig out my scissors every time I went to cook. I found a metal clip attached to a magnet, which I keep on the side of my refrigerator. A small pair of scissors that I've hung on it is now within easy reach of my stove. — Pat, EC Blog
FROZEN RUBBER BANDS LAST. Keeping rubber bands in the freezer makes them last longer. I use the more expensive big bands, and a package that's currently in the freezer has lasted years. — HJ, EC Blog
ONCE A DAY EARRINGS. When I travel, I use a weekly pill containers for my earrings. I store one set in each day's compartment. No lost or broken parts because the earrings remain protected and intact. — Martha, EC Blog
WINDSHIELD WIPER WIPE-DOWN. I found that putting a little rubbing alcohol on a rag and wiping my windshield wipers keeps them just like new. Every couple of months, I repeat. My rubber wipers have lasted for years. — Lee, Indiana
WHITEBOARD MAGIC. Over the years, I've read many different ideas for making your own chalkboard or whiteboard. My husband and I accidentally discovered a great alternative to a whiteboard. We were putting up 'tile board' in a shower area, and I used a dry erase marker to mark it for cutting. The tile board is just like the expensive whiteboards. We have pieces of varying sizes now, some with and some without the tile embossed on them. They're great for kids working on schoolwork, too. A big board is very helpful when diagraming a sentence or working out a math problem. Additionally, our son is framing some pieces for our daughter to use in her coffee shop. She plans to use it as the 'specials board' because it's so easy to write on and clean off. And to clean off dried marker from any of these types of boards, a very little bit of Bon Ami works like a champ. — Chris, email
Would you like to send a tip to Mary? You can email her at mary@everyday
cheapskate.com, or write to Everyday Cheapskate, P.O. Box 2099, Cypress, CA 90630. Include your first and last name and state. Mary Hunt is the founder of www.DebtProof
Living.com and author of 23 books, including her 2013 release "Cheaper, Better, Faster: Over 2,000 Tips and Tricks to Save You Time and Money Every Day." To find out more about Mary and read her past columns, please visit the Creators Syndicate Web page at www.creators.com.