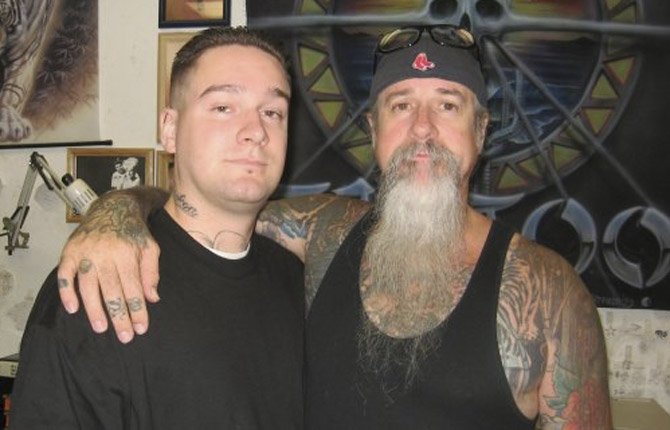 The adage, "Like Father, Like Son," is fitting for Larry and Jacob Hanks, who are building a family legacy among artists within the tattoo culture.
Jacob has won 14 competition trophies in the two years since he opened a studio at 508 B Washington Street in The Dalles. His father, Larry, has become a respected legend in Hawaii after 45 years of painting exquisite designs on living canvases.
Both men have drawn national acclaim in 2012 and will be honored in June with induction into the Hall of Fame at the Northwest Tattoo Museum in Coeur D'Alene, Idaho.
"Every time something good happens for me, I almost feel like, 'Wow, it can't get any better than that," said Jacob, 31. "But then another amazing thing comes up so I can't honestly tell you where this is going."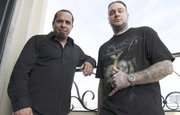 He was tattooed for the first time at the age of 11 by his father, which he considers a high honor. With an uncle also in the business as he grew up on the island of Oahu, Hawaii, Hanks sat in on plenty of tattooing sessions. He studied the designs being carved and listened to his father and uncle critique each other's work and that of other artists.
It came as no surprise to Larry that his son also developed a passion for the art form that had been in existence since the beginning of time.
In the past decade, Jacob has earned notoriety for expertise in Samoan tattooing and a free-hand style known as Poly-Fusion or New Tribal. His work mixes symbols and patterns reflecting the cultures of early tribes that found their way to paradise in centuries past and made it their home.
"In the old days, people would walk into a tattoo shop and point to something on the wall and the artist would slap it on and they'd never see each other again," he said. "Now, you have clients who want you to help them express some emotion or thought that becomes an evolving piece of art."
The more intricate the design, the more energized Hanks is in the painstaking — and sometimes just painful — process to bring it to life. He said an accentuating piece on a woman's body can add a sense of mystery or magnify masculinity on a man.
"I like my art to emphasize the curvature of the body," he said.
Last summer, the Hankses helped organize the three-day Pacific Ink and Art Expo in Honolulu, Hawaii, that drew hundreds of tattoo artists from across the nation. The televised event sold out with 20,000 people in attendance and Larry captured first place in the Best Overall category for a back piece featuring Japanese dragons.
Jacob recently had an article published in Tattoo Road Trip about his visit to Hollywood, Calif., in February for the premiere screening of the new film, "Tattoo Nation" at the
Arclight Theatre. The documentary was written by John Corry and directed by Eric Schwartz to educate audiences about the evolution of tattooing.
While in the spotlight, he got to rub elbows with ink masters, such as Good Time Charlie Cartwright, Jack Rudy and Freddy Negrete. He also had the opportunity to exchange a greeting with actor Danny Trejo during a press conference in nearby Los Angeles.
"That experience really made me nostalgic; it reminded me of watching my father and uncle work and hearing them talk about other veterans of that era," he said.
"Tattoo Nation" had a limited release but is now available on DVD.
Jacob is featured in the Schiffer book, "The Best of Oregon" and has authored articles for 808ink Magazine. His unique ink patterns are often the topic of discussion in tattoo-related articles and on social media blogs.
He also has a piece featured in the new book "The Maneki Neko (Lucky Cat) Project" and all proceeds are used to provide medical care for children with cleft lips and palettes.
"I now have clients coming from all over the U.S. as well as Canada; in a short period of time I've accomplished more things than most tattoo artists ever will and it is sometimes bewildering," said Hanks.
Due to the high demand for his work, he has hired Yadirah Yanez to manage his work schedule and now only takes clients by appointment. In the fall, he plans to limit the amount of time spent at the office to concentrate on making art and parenting his six children.
"Right now, I'm just scrambling to get things done," said Hanks, who is taking on commissions to design logos for T-shirts and other items.
With the reduction of hours at the office, he plans to concentrate on "serious" pieces of art, such as memorial tattoos, and give up smaller designs.
"I'd rather my time be put to better use," he said.
He said the future looks bright with major companies, such as Sullen Clothing, H2Ocean aftercare products and Mithra Tattoo Supplies offering to sponsor his work.
"To me, a tattoo is never done; I can always add more to it," Hanks said.
The Tattoos by Jacob Hanks studio can be reached for a consultation at 808-255-1624.