Games lubricate the body and the mind. —Benjamin Franklin (It's National Backyard Games Week.)
Poverty in two languages: Jim Slusher of the Mid-Columbia Community Action Council recently met with a group of Chinese visitors through the International Visitor Leadership Program, a U.S. Department of State professional development program intended to create mutual understanding between the citizens of the U.S. and other nations.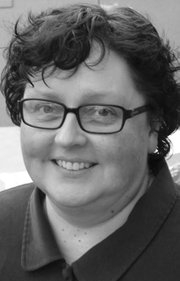 Two of the main topics the visitors are examining on their visit are rural development and poverty alleviation. Slusher is familiar with both, having served 36 years at Community Action working on poverty and rural issues.
"All of the visitors in the group work with different poverty programs in China, so it was very interesting to me to find out what poverty is like in China and what approaches they are taking to address the alleviation of poverty in their country, Slusher said. "For instance, in some of the smaller villages in Western China, the local social service agencies provide families with seeds and a piglet to help them raise Food for their families. In some remote villages, the front door to the house is a plastic sheet and women don't come outside for visitors because they are so poor they have no clothes to wear."
The agencies also work to assure younger children start off with a good education and are taught to read.
Tops in finance: The City of The Dalles has been awarded the certificate of achievement for Excellence in Financial Reporting from the Government Finance Officers Association of the United States and Canada for their comprehensive annual financial report for the year ending June 30, 2013.
The certificate is the highest form of recognition in the area of governmental accounting and financial reporting. It's attainment represents a significant accomplishment by a government and its management. An impartial panel judges based on high program standards including a constructive "spirit of full disclosure."
Since first receiving the award in 1992, the city have received it a total of 18 times.
Chefs and dreamers: The Gorge Grown Food Network is looking for people interested in making use of a commercial kitchen.
The organization is in the midst of a commercial kitchen inventory for the gorge. The information will be publicly available to all interested users.
At the same time, they're also reaching out to potential value-added producers who want to start a new food business. A value-added producer is someone who uses the crops or livestock of the region to create a more finished product for commercial sale. Examples might include making and selling goat cheese, or using locally grown cucumbers to produce a custom brand of pickles.
Gorge Grown is conducting an online survey at www.surveymonkey.com/s/producersurvey2013 on the subject and would like to hear for you.
No one is exempt: It seems even public officials are not exempt from scam attempts. Word on the street is that one local businessman, who shall remain nameless, received an email from a local official seeking a wire transfer of money to help him escape China.
Since the official was nowhere near China, it was clear his email had been hijacked for nefarious purposes.
The Chronicle and local police get regular
reports of scams attempted against local citizens. The "I need help in a foreign country" scam is a popular one and feeds off the desire to help a friend, but others connect with the common desire to turn a quick buck.
The general rule of thumb: "If it sounds too good to be true, it probably (almost always) is."
The Internet Crime Complaint Center has released its annual report showing an increase in cybercrimes against consumers of 8.3 percent in 2012, compared to 2011. Oregonian losses increased more than $6.1 million.
The Better Business Bureau works to provide information on cybercrime and you can stay aware of the latest cybercrime warnings at bbb.org.
Wake up and network: Drink a cup of joe with the folks at the Original Wasco County Courthouse this coming Tuesday, May 28, from 7:30 to 8:30 a.m. It's the monthly Coffee Connections meeting of The Dalles Area Chamber of Commerce.
The Original Courthouse is at 410 W. Second Place.
Do you have an item for Word on the Street? Email kursprung@thedalleschronicle.com, or call 541-506-4601.