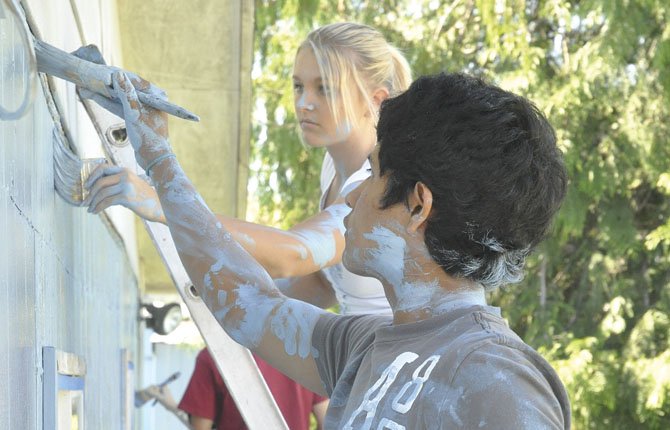 The Dalles — Close to 50 teenagers descended on the home of a senior citizen in The Dalles Monday to give her house a makeover.
The students from The Dalles Wahtonka High School repainted her house and trim, hauled wheelbarrows full of yard waste away, trimmed bushes, pulled weeds, spread bark dust, cleaned, installed new blinds and did other needed projects.
"I could never do any of this myself and I could never repay any of them for any of this," said Imogene Abrams. "There's a lot of them out there and they are working hard too. It's overwhelming."
She said she was impressed that the students were working hard, but was also happy to see that they were thoroughly enjoying themselves in the process.
"I think they're painting each other as much as the house but that's OK," she said.
Abrams said she has been sick and hasn't been able to get out of the house much recently, so it meant a lot to her to have the students take care of the things in her house and yard that have been neglected. She said she was also excited that a few of the students planned to take her to lunch and then to get her hair and nails done while the work crew finished up.
"I've never had my nails done before," she said.
Bailey Coyner, a sophomore class officer helping spearhead the event, said that the project was an expansion of last year, when the freshman class decided they wanted to do a service project and ended up painting a local widow's house. This year they decided they wanted to get more students involved and do a day-long makeover of a house.

"It felt really good last year to help someone do something they couldn't do for themselves, so we wanted to do it again," Coyner said.
She also said that it was fun working closely with students that she didn't normally hang out with at school.
Ale Peña, another class officer, said she was happy to see so many students working together for a good cause.
"It feels really good to help out the community," she said.
Patrick Getchis, a faculty advisor for the class, said the students did a great job and he hopes the activity becomes an annual tradition.
He said even though the sophomore class took the lead, other classes also pitched in. The students didn't use as much of their activity budget as they might have otherwise because Sawyer's True Value, Home Depot and Fred Meyer all donated supplies and/or money to the cause.