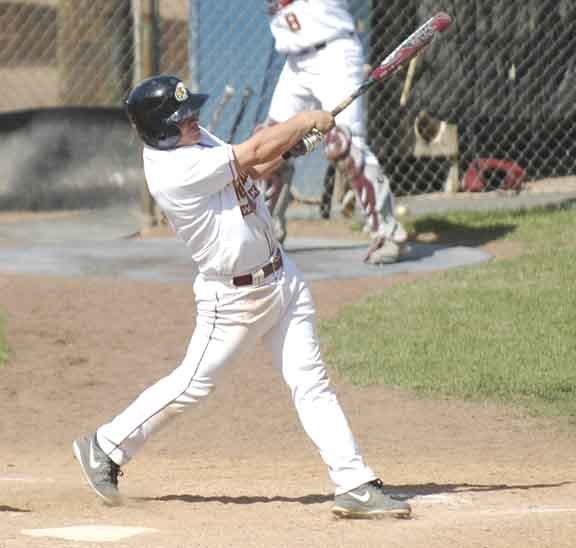 The Dalles — Two teams who faced each other early in the 2013 campaign lock horns again at 4:30 p.m. tonight – there is much more on the line this time around however.
The No. 6 seeded Corvallis Spartans come to town for a first-round state baseball playoff game against No. 3 The Dalles Wahtonka for an opportunity to extend their season.
"We are very excited to be able to play at home for the first round," said TDW head coach J.R. Runyon. "Corvallis is a tough team and it will take all of us executing our game plan to get the win. There are no gimmes in the playoffs. Each game is a battle and today, that is exactly what you will see."

Corvallis is riding a streak where it has won seven of the last 10 games, and they are coming off an impressive 3-0 shutout win over the Sandy Pioneers last Friday.
In that game, Spartan ace Luther Ellenson tossed a complete-game, two-hitter with eight strikeouts and two walks. The only hits allowed were singles. Ellenson has a vast repertoire of a two-seam fastball, a slider and a changeup.

With Ellenson and fellow pitchers Kane Markley, Kyle Storm and a few others on the hill, they have allowed 107 runs. Ellenson is slated to be the state starter, while Storm will be a go-to option in a relief role.

Corvallis (16-11), one of four Mid-Willamette League teams left in the state race, has a high-powered offense giving plenty of support for its pitching staff, as they have scored 220 runs, for third-best in the state.
TDW is ranked eighth with 185 runs scored. Tyger Liner, Derick Porter, Henry Rondeau and Justin Rouleau are the leaders of this potent group. That prolific offense was held in check the last time these two teams played on March 29, where TDW got a gem from Dakota Walker.

The senior right-hander tossed six innings of three-hit ball with three strikeouts and two walks to lead his mates to a 5-1 victory.

In a three-inning span, from the third to the fifth, Walker retired 7 of 8 Corvallis batters.

Nolan McCall led the offense by going 2 for 2 with a double and three RBIs. Kaci Kiser scored two runs, Justin Sugg and Steven Bartells scored once each and both Clay Copper and Kevin Henderson posted RBIs against Corvallis pitcher Dylan Miller.
One key to offensive success was that TDW connected at a 4 for 9 split with runners in scoring position.

During the year, the Tribe amassed win streaks of seven and six games, running up the rankings as high as No. 2 overall.
They have lost two of their last four games, both on the road, but have gone 8-2 in the last 10 matchups. One major coup for the Tribe is that they are playing at home. TDW is 15-1 overall at Quinton Street Ballpark and have won 13 consecutive games in the friendly confines. At home, TDW averages 8.56 runs a game. The winner plays against tonight's Bend-Pendleton winner on Friday.
------
5A BASEBALL State Playoff Schedules (All games played on May 22)
----
Winners advance to next round on May 24 where lower seeds host