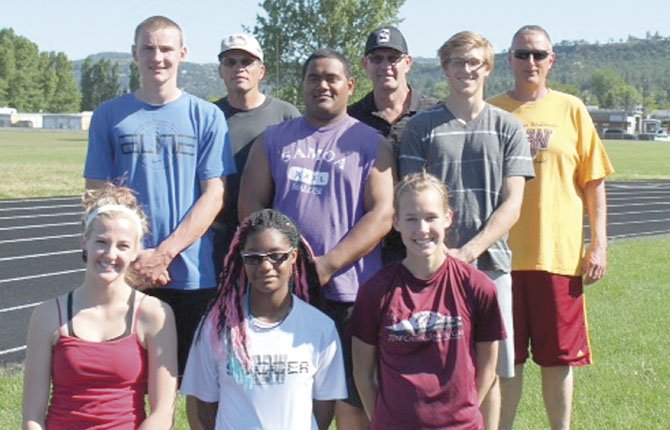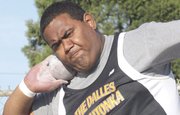 From the start of the season, the expectations have been lofty for The Dalles Wahtonka track and field athlete Lio Tunai.
Riding high off a third-place finish at the 5A state track meet last season, the junior entered the 2013 campaign ranked No. 1 in the state and No. 1 in the Columbia River Conference.
He answered those expectations with 10 top finishes in 12 meets and set a new personal record at 54-feet-11 inches – that distance puts him third overall in the entire state at all levels.
He goes into this weekend's state meet at historic Hayward Field in Eugene with one more goal on his mind – a state championship.
"My goal is to try to hit 60-feet and put The Dalles back on the map for shotput," Tunai said. "I think I can hit that level if my technique and everything goes smooth. I have to stay focused on what I need to do."
With all of the fanfare and praise he has received, there also was a target on his back.
Tunai got everyone's top game.
He said many of his contemporaries would try to engage in conversations, but he had nothing to do with it.
"I just went to my corner where I could really think about it and get pumped up," he said. "I don't want to be distracted. I am there to throw."
He has hit at least 54-feet on three occasions and hit 53 twice, numbers he was not close to reaching in his sophomore season.
He challenged himself to improve, so he bought into the philosophy set by event coach Dave Cornell and hit the pit for two sometimes three hours a night.
"I stepped back and focused on things I was doing wrong," Tunai said. "We were watching film to see what was wrong with my technique. I learned how to get things better."
Tunai's eyes brightened up when asked how to describe the ambiance at Hayward Field.
He had so much fun in Eugene last year that he wanted to make a return trip.
In his senior season, he will think long and hard about the future. Maybe collegiate track is in the cards.
He has more goals set though.
He will be No. 1 again in 2014 and he will have an even larger target on his back.
"Looking at it, it is going to take a lot of work to maintain where I am at right now," Tunai said. "You don't know who is going to come up to compete and challenge you. I am excited to keep working to see where I can go."
One final road trip for MBD
There are two mental countdowns going on for The Dalles Wahtonka senior Maya Barnard-Davidson – she is less than 10 days from graduation. She is also one day from her final high school road trip, a 195-mile journey to compete in her first state track and field meet.
Barnard-Davidson admitted she had been doing a lot of mental preparation for the meet itself, for her jumping.
Then those other thoughts creep in.
"It is going to be bittersweet and it will be hard to deal with at times," she said. "I just look back at the years that I have had and how wonderful the memories have been. I just keep that right in my heart."
Since her freshman season, Barnard-Davidson has increased her personal records, going from 8-feet up to 8-6 to 9-3 and as high as 9-6 this year.
Those heights, however, garnered a seventh and back-to-back third-place finishes, so her state dreams were left by the wayside.
"I have tried since my freshman year to go to state," she said. "In my junior and senior year, I was out-jumped going to state by one jump, so it is a big thing to be able to go this year. I have been really trying hard to get there. Finally, I got it."
Yes, making it is quite an accomplishment, but the senior put some goals in mind.
She is aiming for a personal record of more than 10 feet and with the stage set with the crowd and the luster of the moment; she feels the energy will propel her to greater things.
"I see myself setting a PR. Right now, I am in the middle of the pack for jumping at state, so I am hoping not to finish in last place," Barnard-Davidson said. "As long as I am second-to-last or anywhere else, I will be fine with it. I just don't want to be in last place."
There have been discussions on how to approach the magnitude of the situation. Barnard-Davidson has been to Hayward Field to watch the Olympic Trials and the Prefontaine Run.
In her mind though, she is approaching this state meet as if it is just an ordinary meet on another field.
"Having the opportunity to go there previously was probably one of the best things I could have done to prepare me," she said. "So, I know the place, I know the stadium and I have seen people jumping there, so it helps me to prepare myself."
Being a senior and having those state dreams dashed early on, she advised many of the young up-and-coming track athletes to remain steadfast in their beliefs.
There will be struggles, but there is great reward in the end.
"It takes a lot of hard work. Sometimes it can be really discouraging," Barnard-Davidson said. "Those moments when you feel the most discouraged, it is important to keep going. You cannot stop at all. You have to keep going. That is a message I have lived by."
Nerdin has that special feeling
For someone making his first trip to the state track and field meet, The Dalles Wahtonka junior Zach Nerdin is enthusiastic and confident about his chances to fare well against the best 110-meter hurdle standouts.
Through the season, his times have steadily decreased with his highest mark set at 17.14 seconds in March to 16.08 on May 10.
He has four first-place finishes to his record and chalked up his first state berth last week in Hood River with a 16.15.
"I have been setting personal records and my form has gotten better," Nerdin said. "You can never stop improving. I am confident definitely, especially with how I have been performing. I think it is my time to shine and we will see how it goes."
Nerdin has been hard at work on the track, but has also studied his competition. He noticed that some of their best marks were done once, but other times were right on cue to his overall tallies.
"I know if I can get a good time and get a good start, get over the first and second hurdle going top speed, I can be in good shape," Nerdin said. "My goal is to get the finals and we will see where it goes from there."
From his sophomore year to now, Nerdin said his speed has increased and through diligent offseason work in the weight room, his strength has been a contributing factor to his success.
To go from 18.68 last April to 16.08 on May 10 of this year, the proof has been in the pudding.
"Technique is definitely a big part of hurdles too," he said. "When you get your technique down, the better you get and the faster you can get. You do whatever you can to cut off more seconds from your time."
Nerdin visualizes what this trip could be like.
He can hear the roar of the crowd. He can see the stands filled to capacity cheering loud.
It will probably exceed his expectations.
"Us six are going to go down there and give it our all and go for it. We have all been excited," Nerdin said. "I have done my normal routine and felt fine. I have just been worrying about getting ready to go for this. It is all or nothing. It is about doing everything you could to prepare for this moment. Now it is time to get it done."
Hill is starting a winning legacy
There is a strong feeling that Yasmin Hill could have earned a state track invitation in multiple events.
In the meantime, she is basking in the glory of making this trip to Eugene in one event, because her run is just beginning – she is just a sophomore, so the best yet to come.
Coming off a district-clinching long jump performance of 15-feet-10.50 inches, Hill dominated her next competitor by more than seven inches.
Still, there was something missing.
"At first, I was kind of disappointed because I wanted to PR," she said. "I felt like I could have gone farther. But just standing up there (on the medals stage), I was very happy. I could not stop smiling. It was pretty amazing."
It was quite the departure from her feeling early on in the season, when the jumps were not coming consistent enough.
She even hit as low as 12-11 at the Kiwanis Invitational on April 20.
From that point, however, the distances increased from 14-8.25 up to 15-10.5 to her career-best of 15-11.75 on May 10 in Hermiston.
"It is pretty frustrating because you try and try and you can't really get it," Hill said. "At first, I just wanted to stop doing it because I could not figure it out. People kept saying that 'this is your first year, you will get it down,' so that made want to keep doing it. Now I am going to state. It feels great to get that support to keep you going."
Although this is Hill's first year on the jumps circuit, she feel this season and her performances have just been the beginning of a push to pursue track in college.
She believes it is an attainable goal.
"I hope this is just scratching the surface on what I can really do," Hill said. "I know I have the potential to do it. I will have to work so much harder in order to get there, but that is my goal."
Conklin's focus led to state rise
For some reason, something clicked for The Dalles Wahtonka track and field athlete Katie Conklin.
She came into her sophomore season more serious about the sport and her focus was on succeeding at the highest level.
She responded by setting six personal records and six first-place finishes in various events.
Conklin capped a successful 2013 season with a distance of 33-feet-8.5 inches to secure a district title in the triple jump to punch her first state ticket.
So, what has been the difference?
"This season more than last season, I just really put my head to it and I had it in my mind that I was going to try my absolute hardest," Conklin said. "Last year, making it to state wasn't my goal. This year, it was my main focus, which is good because I made it."
Conklin's top effort in the triple jump came at an opportune time when the season was on the line.
She was on the outside looking in at third place with two jumps remaining.
On her final attempt, Conklin jumped to 33-8.5 to capture first place and a district crown, by a margin of 1.75 feet, ahead of Pendleton's Xayna Robinson (33-6.75) and 2.5 in front of Amanda Fowler (33-6), also of Pendleton.
Conklin described her mindset while going through her jumps, saying her legs were giving out and she was doing weird things she had never done before.
It was not what she initially planned.
Before her final jumps, Conklin took a timeout to run in her 100-meter hurdle event, where she finished fourth with a time of 17.71 seconds.
"I went to do my hurdle race and I totally forgot about it," she said. "I didn't like my hurdle race, but then I got done and felt good. I just got up to my mark (for the triple jump) and knew I could do it. I didn't even think. I just went to it like I have been practicing, so it was really cool to make it."
Since this will be her first trek to Eugene as a state participant, Conklin said she has no expectations – her plan is to soak in the experience and set her bar higher for her junior and senior seasons, where she hopes to make another run at it with some personal records and medals.
"I have no expectations this weekend though. It is up in the air. I got there so that is the biggest thing," Conklin said. "I got over that big wall that not many get over. I am stoked. I don't care about what happens with the rain, I love it, if there are thunderstorms, I will love it or if it is hailing, I will love it no matter what."
Farr ready to blaze a new trail
Harris Farr overcame injuries last season and experienced great track and field success with a full bill of health in 2013, his junior year.
He is a district champion in the long jump.
He is The Dalles Wahtonka record holder with a distance of 22-feet-5 inches.
Now he is off to state as the No. 5 seed, with eyes on some hardware.
What more is in store?
"I don't know. I am just excited because I never thought I would be very good at sports or anything," Farr admitted. "I played soccer when I was younger and I was the fastest and jumped higher, but to be doing this in track, I can't explain it. I don't know."
One thing for sure, Farr did not expect to rise up the rankings as he did.
In 2012, he did not get close to 20-feet, averaging around 18.3 in his eight meets.
He did set a personal record at the district tournament last season with a 19-9.5, so there began the breeding ground for optimism.
He hit the weights, became diligent in practice and studied film.
Farr doles out a lot of credit to event coach Jim Taylor and The Dalles Wahtonka athletic director and weight-training instructor, Kyle Rosselle.
"I started working hard. I was a lot weaker last year with no form or anything. I worked on sprinting to get stronger and worked on everything I could. I was not getting close to a little above average, but not good enough to get anywhere. Then, I just got really good somehow."
Coming from Brookings, Farr is ready for any type of weather conditions, so he is prepared mentally for those elements.
He is not treating it like any other track meet, however.
He will see old mates from Brookings along with everyone he knows from across the state.
"I just have to contain my emotions," Farr said. "I obviously want to get first and my best is only a couple of inches away, so I think I can do it."