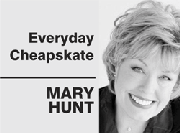 Dear Mary: While my sister was on staff at a summer camp last year, she did not launder her bedding frequently. Now that the bedding has been washed many times since being home, I've noticed that the pillowcases and comforter are dingy and do not look clean even though they're fresh from the dryer. Is there anything that will brighten these dingy items? — Lexi, email
Dear Lexi: You don't mention if these linens are white or colors, so I will assume the latter. If I were you, I would fill the washer with the hottest water possible; add 1/2 cup Cascade automatic dishwasher powder, one cup of Borax and your regular laundry detergent. Once dissolved, add the linens and allow the machine to agitate for a few minutes before turning the machine off and allowing the items to soak overnight. Complete the full cycle in the morning. I would also hang them out in the bright sunshine to dry if that's possible this time of year where you live.
Dear Mary: Last year, I started doing some transcribing work at home to earn a little extra money. Now that it's tax time, I am confused about what I can deduct as home business expenses.
I'd like to include my home office and Internet costs, but my kids also use the computer. How do I figure out just how much I can list as a deduction? — Bethany, email
Dear Bethany: I am not a tax professional, so please do not rely solely on what I have to say here.
The way I understand the home office deductibility for a business that you run out of your home is that the space and equipment must be "regular and exclusive." That means if you use a spare bedroom for your office, it cannot also be used as a spare bedroom. You would need to move the bed out and set it up as an office because, trust me, the IRS could make you prove the exclusivity of this space.
The IRS has prepared a useful resource, Home Office Deduction, in the Small Business and Self-Employed area of its website. It should answer all of your questions.
Dear Mary: I have two daughters with light pink backpacks that can be reused next school year. The problem is that they are dirty. What can I use to clean them without damaging them? — Patricia, email
Dear Patricia: If the backpacks are made of canvas, I'd saturate them with Soilove, my favorite laundry stain treatment that's cheap and more effective than anything else I've ever tried. Then, I would soak them in the washer in cold water with detergent. Follow with a run through the delicate cycle, and hang them to air dry. That should make them perfectly serviceable for a few more years. You can find Soilove in some supermarkets and 99 Cents Only stores in Western states, or online at Amazon.com.
Mary Hunt is the founder of www.DebtProof Living.com, a personal finance member website.
To find out more about Mary and read her past columns, please visit the Creators Syndicate Web page at www.creators.com.