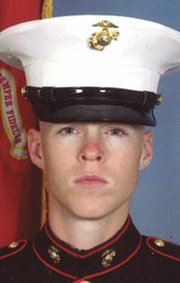 Christopher Kessell, a 2003 graduate of The Dalles High School, was paralyzed from the waist down in a solo car accident on Valentine's Day in California and is heading home soon to live with his mom.
An account has been established at Columbia State Bank in Kessell's name to help cover the cost of transporting him home and to fund a small remodel of his mother's home in Pine Hollow to accommodate his wheelchair.
His mother, Pam Petersen-Griffith, thinks the transportation, the remodel to the bathroom, and widening of doorways can be done for $3,000 to $5,000. The Veterans Administration will install ramps at his mother's house, but any interior changes are not paid for, she said.
The account was set up by friends, a wonderful surprise to hear about, she said.
Kessell's step-dad, Mark, is working on the remodel along with donated help from friends.
Kessell, 28, joined the U.S. Marine Corps in 2006 and worked as a jet mechanic on Harriers — the jets that can move straight up and down, like a helicopter.
He was deployed twice, to Iraq and Afghanistan, and served on an aircraft carrier, the USS Pelelieu, for one of his deployments.
He crashed when he fell asleep at the wheel around midnight, and his pickup flipped end over end a few times, his mom said. There were no passengers and nobody else was injured. Another car on the freeway called 911. Kessell is in the VA San Diego Spinal Cord Injury Center in La Jolla, Calif.
He's had 12 surgeries since his Feb. 14 crash in San Diego, where he'd been a student at the San Diego Golf Academy since last August, after he got out of the Marine Corps.
"His body was pretty broken," Petersen-Griffith said. "His back was completely broken and fractured and so he has rods and plates and screws in his back. He has a plate in his clavicle. He has a very complicated — like 14 different breaks — in his left leg that were put back together with rods and plates."
They feared he might lose the leg at first, but they managed to save it, she said.
He was first taken to a trauma center where "a team of like eight people worked on him pretty hard for the first 10 days. I mean, it was touch and go there. But once he got a little more stabilized, they were able to get the more permanent surgery type things in place," she said.
Christopher's brother, Alex, is also in the Marines, as a supply sergeant, and was deployed in the gulf, when the crash happened. It took a month for him to be able to come home to see his brother, she said.

Alex has been transferred to a new duty station in Richmond, Va., reporting by July 1, so he won't be able to be near his brother for awhile. Chris also has a four-year-old son, Ryver, who will be coming to Pine Hollow as soon as he is settled.

Chris was on the high school golf team and was planning on a career in golf.
He played golf even when deployed, whenever and wherever he could, his mom said. "That has been extremely tough on him to leave the academy," she said.
Before he joined the Marines, he worked at Subway and at the Veltex gas station, both for quite awhile, she said. He was also a big skateboarder and played some basketball, though never for the school team.
His mom went down to be with him on Feb. 14 and got home May 6. She plans to bring him home June 4.
"I'm going to drive him, it's going to take about a week to get here," she said.
"He's learning how to transfer from bed to the wheelchair and back. He's learning how to be more independent in his wheelchair so that he can be safely released outside the care of a hospital," his mom said.
"He is doing really good, really strong, but reality is hard to face," she said.
Once Kessell gets situated in Pine Hollow, he will be driven by a VA van to medical appointments in Vancouver, where his doctor will be.
"But he won't have to go there that often, hopefully," Petersen-Griffith said, and added, "I want to thank everyone for prayer and support, it has kept us all going!"