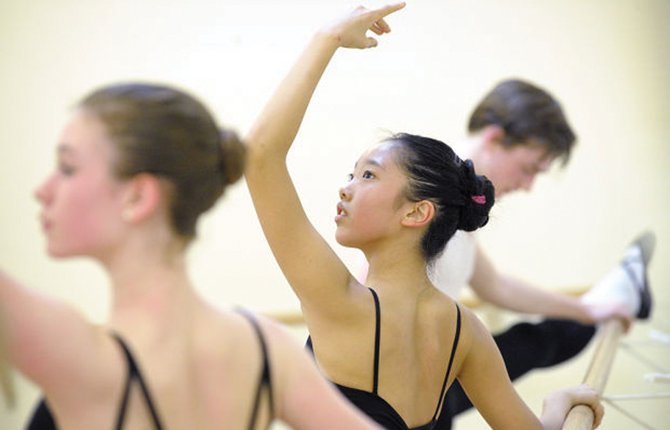 CORVALLIS — A local ballerina will learn classic ballet style at a summer program
A number attached to her leotard was the only thing that identified 13-year-old Bethany Ayers-Hale in a studio full of strangers.
She took her place next to the bar with her body poised and ready to dip, jump and spin in any combination that she was instructed. She was one of 30 to 40 ballet dancers in the room, ages 9-14, auditioning for the prestigious Bolshoi Ballet Academy Summer Intensive in Connecticut.
As she moved, Ayers-Hale concentrated on the placement of every part of her body and fought the jitters that came from being the subject of intense scrutiny.
"One of them pointed at me," Ayers-Hale recalled of the Feb. 3 audition in Bellevue, Wash. "I was like, why are they pointing at me? Am I messing up?"
To her surprise, Ayers-Hale was accepted to participate in the intense, six-week summer ballet program taught by professionals from the world-renowned Bolshoi Ballet Academy in Moscow, Russia.
The news came in the form of a voicemail. In her first year of auditioning for a summer intensive since her introduction to ballet at age 3, Ayers-Hale was accepted.
At first, she didn't think she was talented enough to even audition, but her mom, Amy Ayers-Hale, encouraged her to try.
"I thought the audition would be a great learning experience because you go into a strange studio, you have a different instructor and you're around all these students you don't even know," she said.
Auditions for the summer intensive were held all over the United States. Only 30 dance students are accepted from each of four skill levels, Amy Ayers-Hale said.
Bethany Ayers-Hale's teacher, Bolshoi-trained Irina Vassileni, said the instructors select only dancers with the potential to become professionals. They must be strong, flexible, slender and trained in classical Russian dance.
"They choose only super-talented children who are going to be professional dancers later on," Vassileni said. "It's very competitive."
The six-week program includes a tight schedule of instruction five days a week with enrichment opportunities on the weekends, such as a trip to a professional ballet company and exhibitions. Ayers-Hale has never spent more than a few days at a time away from home, so it will be a big step.
"I think she's going to be too busy to be homesick," Amy Ayers-Hale said.
Bethany Ayers-Hale practices four days a week year-round at the Corvallis Academy of Ballet with some of the same classmates she has had since her first years dancing. Ballet is an intense athletic and intellectual endeavor, but she also sees it as a creative outlet.
"I feel like I can express myself easier with my body and dancing than I can with words," she said. "It's kind of hard to explain. Even though it's really hard, it gives me something to do to unwind. Some people do yoga to relax — ballet is just a relaxing thing I do."
Ayers-Hale's teachers say she is strong, hard-working, smart and can learn complicated sequences of steps quickly, but there is one area that she is striving to improve.
"Her weakness is that she has to believe in herself more and develop much more confidence in what she's doing," Vassileni said. "What you think inside comes through your body language — when people see that you are not sure, it's not a good quality. She is working on it."
Though Amy Ayers-Hale gently reminds her daughter that becoming a professional ballet dancer is a long shot, Bethany Ayers-Hale dreams of someday turning her love of ballet into a career.
"My plan is to continue dancing for as long as possible and then I kind of want to get into a professional dance career," she said. "If I could, it would be cool because I would be doing something I love six to eight hours a day."