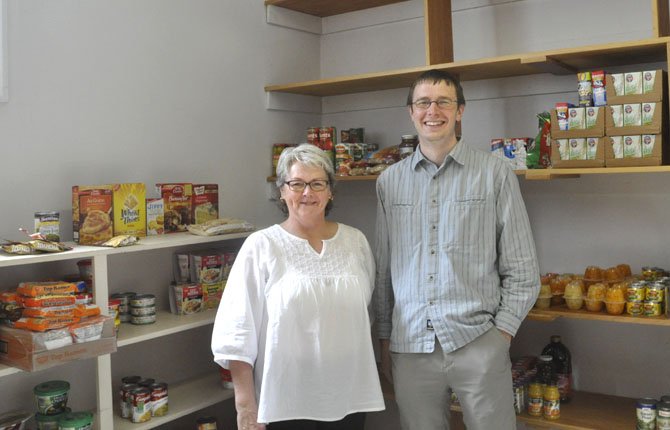 Area churches have begun a program to feed 20 homeless high school students on weekends, and they plan to continue the program into the summer and next fall.
They are also encouraging a wider community participation in the project, which was started by First United Methodist Church.
The Methodist Church is right across the street from The Dalles Wahtonka High School and the congregation was searching for a way to get more involved with the school, said Interim Pastor Tyler Beane.
School officials suggested a backpack program, where students could pick up a backpack on Friday that had enough food in it to last a weekend. Each backpack has two breakfasts, two lunches, two dinners and two snacks.
The church invited people to a planning and informational meeting and 20 people showed up, demonstrating the community's interest in helping, Beane said.
The program is so new it is only on its fourth weekend this weekend, and after that will only have two more weeks left in the school year.
The biggest need right now is food, he said.
The categories needed are:
• proteins like peanut butter, tuna, cheese, summer sausage and shelf-stable milk, or milk that doesn't need refrigeration;
• grains like whole grain bread, tortillas, muffins, rolls and bagels, crackers, cereal (bowl pack or bulk), instant oatmeal, breakfast bars, mararoni and cheese, noodles and heat and serve ravioli, soup, chili, pasta or rice meals;
• fruit, including fresh fruit, canned easy-open fruit, or individual serve fruit, dried fruit, jam and jelly
• vegetables including carrots, celery, cucumbers, broccoli, cauliflower, salad mix and canned vegetables
• snack foods and sweets
As Beane stood in a basement room at First United Methodist, with shelves lined with food, he said, "The food you see here has been donated by a lot of churches in The Dalles: Gateway (Presbyterian), Calvary (Baptist), Zion (Lutheran) St. Paul (Episcopal) Church, United Church of Christ, First United Methodist." Church members have also volunteered for preparation shifts.
The Community Action Program has also donated food, and the church has used money donations to buy further items from CAP. Windy River Gleaners is also participating.
"The food goes fast. We try to be generous with the kids, so a lot of food goes out," Beane said.
Glenis Schreffler, a member of the Methodist Church, said a number of gorge communities already have backpack programs, including Wishram, Goldendale, Lyle and White Salmon.
Twenty students identified themselves to school officials as being homeless. There is an expectation that more students are also homeless, but have not told school officials, Schreffler said.
The church got 20 backpacks donated, and its typical routine is to accept food donations Thursdays from 10 a.m. to noon, when a volunteer staffs the church office, and then the backpacks are filled Friday at 1 p.m.
A system has been developed to allow students to pick up the backpacks discreetly.
"The kids we are serving are anonymous to us," Beane said. "We don't know who they are for their protection."
They have found that several of the students have siblings, so they are also packing enough food for their siblings — there are five siblings in total.
They distributed eight backpacks the first week, 14 the second, and 10 the third, Beane said.
The homeless students are not necessarily living "in a sleeping bag under a bridge," Beane said. Rather, they are "couch surfing" and staying with friends. Sometimes, their entire family is displaced.
Some students get kicked out of their homes, or are homeless by choice because of chaotic home lives.
The backpacks have always come back empty, but the church is thinking of including a survey to get feedback from students on what kind of food they'd like to have, Schreffler said.
Beane said teachers tell stories of students who "stuff themselves on Fridays … because they don't know where their meals are going to come from on the weekends –"
"Or they stuff themselves on Monday because they haven't eaten all weekend," Schreffler interjected.
Beane said they wanted to get the program up and running, even this late in the year, because of the opportunity for grants.
"From my perspective as a pastor, this work we're doing is what Jesus did," Beane said. "There's a story about Jesus and a large crowd had gathered around him, like 5,000 people.
"Jesus and his disciples only had a few loaves and a few fishes and the whole crowd is really hungry, but when Jesus shows up, everybody gets fed. It's a miracle story," he said.
And while it isn't in the Bible, Beane said, "It's possible some of the people in the crowd had food with them … and Jesus' spirit of giving inspired everyone else to share their food."
He said the people in the crowd might not have known the others, but "they had to make that compassionate leap," and help those they don't know.
Beane said the program "has a lot of room to grow and we're just touching the tip of the iceberg." They could conceivably start providing backpacks to the middle school and grade school.
The program could also use a volunteer food buyer to pick up fresh fruit and vegetables just before packing day on Fridays.
Beane said there are other options out there to feed the homeless on weekends — such as Bread and Blessings — but these kids may not be willing or able to take advantage of them.
The backpack program "helps kids get fed who are not being served by the rest of the system," he said.
For ways to contribute to the program, please call the Methodist Church at 541-296-4675 and leave a message.