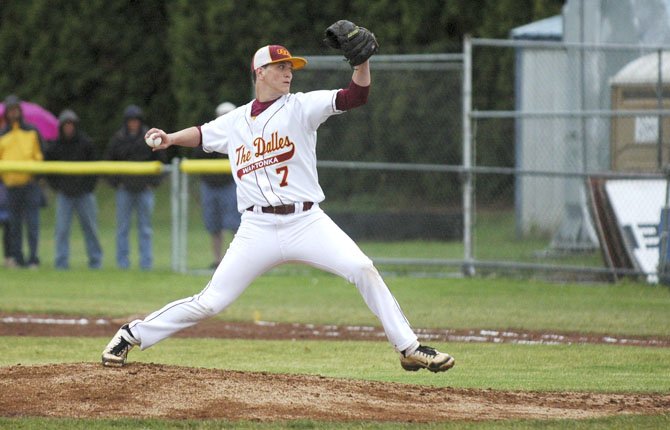 Even when the situation looked dire, Corvallis pitcher Luther Ellenson found a way to make the right pitch at the right time.
The southpaw allowed four hits, walked five and hit two batters, but fanned 11 and stranded 10 The Dalles Wahtonka batters to lead his Spartan team to a 2-1 first-round state baseball playoff win Wednesday in rainy The Dalles.
"He has really fallen into a groove in terms of finding the right pitch to make at the right time," said Corvallis head coach Eric Dazey. "He has thrown a ton of quality pitches in the last month. This is one of the most prolific offenses in the state, so Luther really needed to buckle down or else it could have gotten out of hand."
Through the first three frames, both Ellenson and TDW pitcher Dakota Walker were engaged in an all-out pitcher's duel.
Until the top of the fourth when the Spartans scored twice on a sacrifice fly by Tyger Liner to plate Henry Rondeau, who led off with a double.
Ellenson then roped an RBI single to center field to score Nathan Reynolds, running the count up to 2-0.
Corvallis had three of its four hits in that fateful fourth frame.
Walker struck out eight Corvallis batters and did not issue a walk. Only one of the four hits allowed went for extra bases.
"It is pretty frustrating not producing when it matters," said Nolan McCall. "I am just sad to see the seniors go. They gave us everything they had today in the field. Dakota pitched a really good game. We did everything we could, but it just wasn't our day. The biggest thing is seeing the seniors lose today. It is depressing."
Down 2-0 in the bottom of the fifth inning, TDW got things going with three consecutive one-out walks to Austin Wilson, Kaci Kiser and Justin Sugg.
This set the stage for Connor Mathisen, who was 0-2 in the game at this point.
Mathisen fell behind 0-2, but Ellenson misfired on three straight pitches to run the count full.
On the payoff pitch, Ellenson painted the outside corner for a called third strike to retire Mathisen for the second out.
McCall dug in next and he fell behind 0-1, but on the next pitch, he rifled a line shot up the middle. Corvallis second baseman Kane Markley lunged high in the air for the catch to take away two runs and end the threat.
TDW had another chance in the bottom of the sixth after a one-out single by Steven Bartells and then a pitch hit Kevin Henderson put runners on first and second base.
Walker had a chance to help his own cause with a possible RBI standing at second base in Bartells.
On the first pitch he saw, however, Walker hit a slow grounder to Reynolds at shortstop. He flipped the ball to Markley, who then fired to Dylan Miller at first for the double play.
Three outs were left in the Tribe season.
Ellenson bobbed and weaved some knockout blows for the past two frames and he did the same rope-a-dope routine in the home half of the seventh.
"I can't explain it to be honest," Ellenson said. "Maybe I pitch better when I am backed into a corner. I kind of get super-focused when I need to. It isn't the best way to pitch though. We were fortunate."
He retired the first batter on a strikeout, but then walked Kiser to bring the tying run to the plate in Sugg.
On the first pitch he saw, Sugg hit a flyball to right field for the second out.
Mathisen represented the final chance and he worked a full count against Ellenson. On the seventh pitch of the at-bat, Ellenson's toss sailed out of the strike zone toput Mathisen on first base.
McCall had two runners on base with an opportunity to inch his squad closer. He delivered an RBI single to left field to chase home Kiser, making it 2-1 with two outs and the tying run at second base.
Clay Copper hit the plate next and the all-league backstop worked a 3-1 count. On that last pitch, Ellenson's throw went into the dirt and trickled away from catcher Tyger Liner to allow Mathisen to advance to third base and McCall to scoot to second.
Ellenson got a called strike to run the count to 3-2, and on the full count pitch, Copper hit a flyball to right field, where Kyle Storm ran in and made the grab to seal the win.
"Sometimes in baseball, you are not necessarily doing anything wrong, but you are not getting those breaks," said TDW head coach J.R. Runyon. "We needed that one hit to bust it open to score two runs like Nolan's hit. That is how it goes. It is definitely a tough way to lose a ballgame."
McCall, Sugg, Bartells and Henderson each had hits, and Kiser went 0 for 2 with two walks.
The last time these two teams met, TDW went 4 for 9 with runners in scoring position, but on Wednesday, the tables were turned as the Eagle Indians converted on 1 of 7 opportunities. Of the 10 runners stranded, five were in scoring position.
"We couldn't get that timely hit," Bartells said. "That is the way the game of baseball is. Some guys get there and some guys don't. Their pitcher did a good job too keeping us off balanced, so give him credit. I am just sad we didn't get to close it out."