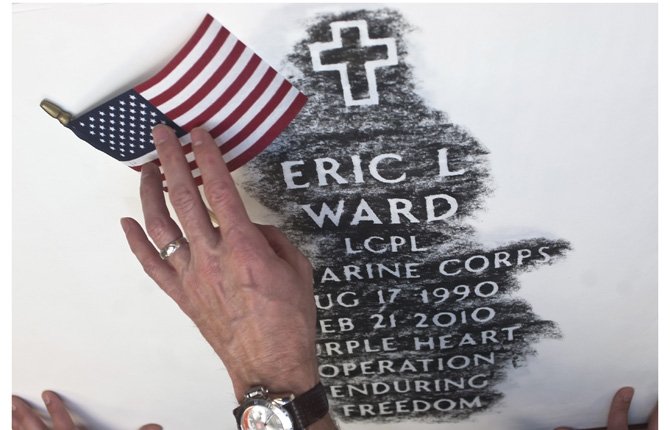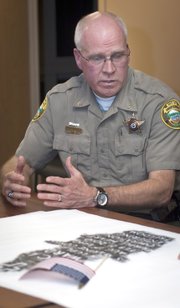 Wasco County Chief Deputy Lane Magill has never served in the military but is a strong supporter of active-duty troops and veterans; he recently visited Arlington National Cemetery in Virginia to pay his respects to the fallen.
USMC Capt. (retired) Daniel Brophy is a disabled Vietnam War veteran who lost 14 of 21 Marines in his combat unit during a 1964-65 deployment, the first of two to the Asian country. His visits to the national cemetery and the Vietnam Veterans Memorial in Washington, D.C., have been to commune with friends who left this world behind.
The civilian and the warrior both play a role in Monday's Memorial Day services in The Dalles. The first observance will be noon, May 27, in front of the Veterans' Memorial at Kelly View Point and the second at 2 p.m. near the entrance of the Oregon Veterans Home, 700 Veterans Drive.
Faces of war
Magill: "It was a cold day, about 20 degrees and brutal, and the wax didn't want to work when I was trying to do the gravestone rubbings at Arlington. I ended up having to redo some of them but somewhere along the way these men became the faces of war for me; I never met them but they died for me."
He headed into Section 60 of Arlington – the area where veterans of the Post-9/11 wars are buried – on Jan. 26 to find the graves of USMC Lcpl. Eric Ward, 19, of Redmond, Wash., who died Feb. 21, 2010, in Afghanistan and Army 1st Lt. Mark Dooley, 27, of Walkill, N.Y., who perished Sept. 19, 2005, in Iraq.

He was also looking for the final resting place of 14 out of a 30-man crew of Air Force, Army and Navy warriors who died after their helicopter was shot down by Taliban militants Aug. 6, 2011, in Afghanistan.
Resting side by side are: USAF Technical Sergeant Daniel Zerbe, 28, of York, Penn.; USAF Technical Sergeant John Brown, 33, of Tallahassee, Fla.; Master-at-Arms Petty Officer 1st Class John Douangdara, 26, of South Sioux City, Neb.; Cryptologist Technician Petty Officer 1st Class Michael Strange, 25, of Philadelphia, Penn.; Special Warfare Operator Chief Petty Officer Heath Robinson, 23, of Detroit, Mich.; Lieutenant Commander Jonas Kelsall, 32, of Shreveport, La.; Special Warfare Operator Senior Chief Petty Officer Louis Langlais, 44, of Santa Barbara, Calif.; Special Warfare Operator Senior Chief Petty Officer Thomas Ratzlaff, 34, of Green Forest, Ark.; Special Warfare Operator Chief Petty Officer Matthew Mason, 37, of Kansas City, Mo.; Special Warfare Operator Chief Petty Officer Kevin Houston, 35, of West Hyannisport, Mass.; Special Warfare Operator Petty Officer 1st Class Christopher Campbell, 36, of Jacksonville, N.C.; Special Warfare Operator Petty Officer 1st Class Jason Workman, 32, of Blanding, Utah; Special Warfare Operator Petty Officer 1st Class Aaron Carson Vaughn, 30, of Stuart, Fla.; and, Chief Petty Officer Brian Robert Bill, 31, of Virginia Beach, Va.
"I was carrying the bracelet that was given to me by the Gorge Heroes Club with Eric Ward's name on it that day and his death has become personal to me. These losses are all so tragic and somehow, by doing these rubbings, I feel that I am doing something to thank their families."
Finding closure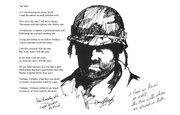 Brophy stood at the Vietnam Veterans Memorial Wall during one of his four visits to Washington, D.C., and gazed in sorrow at the 58,000 names etched into the black granite.
Three of the names on the Wall were men who had become personal friends during days and nights of extreme danger in jungle warfare.
"I have a reverential feeling every time I am at the Wall and at a certain angle there is a coolness and quiet that you really can't describe. Being there gives me closure and I think it helps families coming there to see the names of so many men and women who gave all to their country and are now memorialized in stone. I think they realize after looking at all those names that they are not alone in their grief; it allows them to have a better closure."
Last winter, Magill asked the heroes club, a local troop support group, to provide him with the names of veterans killed in action that its members wanted visited while he was on the east coast.
He was one of 267 officers from across the U.S. chosen to participate in special training at the FBI National Law Enforcement Academy on a Marine Corps base in Quantico, Va.
Although he took most of the rubbings in January, Magill was dissatisfied with how four had turned out and revisited the cemetery to redo them March 23, just days before he was set to fly back to Wasco County.
His wife, Sheri, joined him the second time. On the first round, he had enlisted help from four fellow officers for what turned into a three-hour mission. He was assisted by his roommate Mark Teply from the Midwest City Police Department in Oklahoma, Michael Mize, an officer with the Oklahoma State Highway Patrol and Aaron Shepherd of the Ada County Sheriff's Office in Idaho.
"I posted the flags that we had been given by the heroes club and took pictures that could be put with the rubbings. I had placed one of our law enforcement patches on Eric's grave and then I noticed this man standing by the grave of Daniel Zerbe. I walked up to him and he told me they had been college roommates but I didn't ask for his name and he didn't ask for mine. He was an F-18 fighter pilot in the Navy and I made an extra rubbing that he said would be given to Mr. Zerbe's wife. I told him that the heroes club was going to be sending the rubbings I had taken to the families and he promised not to say anything to her. Later, the daughter of a World War II veteran came by and I helped her with a grave rubbing. That was really cool, just one of those moments that you roll with."
New mission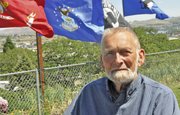 The last day that Brophy would ever walk was Feb. 23, 1969, when his body was broken by a .50 caliber bullet — more than 2 inches long and about one-half inch diameter — during a combat mission on his second deployment.
Although he could no longer go out on the battlefield, he was still a warrior and began fighting to help other veterans and military families work through trauma-related problems.
He took a medical retirement from the Corps in 1970 and had become an ordained minister by 1978. He graduated with a master's in social work from Portland State University in 1980 and then went to work for the Veterans Administration.
Over the years, he counseled veterans who suffered from PTSD and, in 1986, became involved with Point Man International Ministries.
He now serves as Outpost Leader for the Christian-based organization and, in that role, helps raise funds to send care packages to troops serving in harm's way.
"For a time, Point Man would send me with one of the four traveling Walls that are half the size of the original to stand watch and help people when they wanted to make rubbings of names. The Walls were a huge success and still are — people drive 200 miles just to spend one hour there — because families who don't have the opportunity to go to D.C. can still find the closure that these Walls provide. A lot of vets would come there during my watch and sit about 20-30 yards back. They couldn't make themselves go up to the Wall and I'd help them find the name of the person they had come to see and make a rubbing. Sometimes the name wasn't there and they were happy to know that person had made it after all. A lot of times, the children of the fallen would be brought there to 'meet' the father they never knew. Members of the community that the Wall was visiting would come out and support people having trouble. The Wall brought people together."
He said the saying, "For those who have fought for it, freedom has a flavor the protected will never know" is a great truth that is only fully realized by veterans and military families. "Until someone has been to war and seen the ugliness of human nature they cannot understand how fortunate they are to live in a country where they are protected. That is why I raise the flags for all branches of the service five times a year — Armed Forces Day, Memorial Day, Flag Day, Fourth of July and Veterans Day. I just want to remind people that the highest of all possible prices was paid for the security they enjoy."
Humbling experience
While he was in D.C., Magill paid his respects at the National Law Enforcement Officers Memorial to Oregon State Police Trooper Bret R. Clodfelter, 34.
 The officer was shot and killed during a traffic stop on Sept. 30, 1992, by Franscisco Manzo-Hernandez, a man with a long criminal history.
"The entire trip was a humbling experience for me and I took Eric's bracelet to the changing of the guard at the Tomb of the Unknowns and to the Lincoln Memorial.
"I visited a lot of the places on the East Coast where tourists go, such as Gettysburg, and it has really made me think about the men and women who have gone to war through the ages and how much we owe them."
Hearts and minds
Brophy has found himself wondering when visiting Arlington and looking at white headstones as far as his eye can see, or in front of the Wall, what the men and women who had their lives cut short were like as human beings.
"There is another Daniel R. Brophy listed on the wall and I never met him but he was from San Diego, Calif., where I also lived for a while. When my mom heard that a man by that name had died she was really upset but my wife (Lynn) knew that I was alive because no one had come to the door. I always look at his name when I'm at the Wall."
The Wall and Arlington, said Brophy, are hallowed ground and command respect from all who visit.
"These places are, to me, the spiritual representation of all the hearts and minds of the fallen. I think that going to Arlington or the Wall is some of the best therapy that a veteran can receive. We all did what we were told to do, it was our mission, and it is important for us to remember the ones who did not come home.
"It is my fervent prayer and hope that Americans will wake up and not let slip through their fingers that which has been fought for and secured for them. They need to not become complacent."