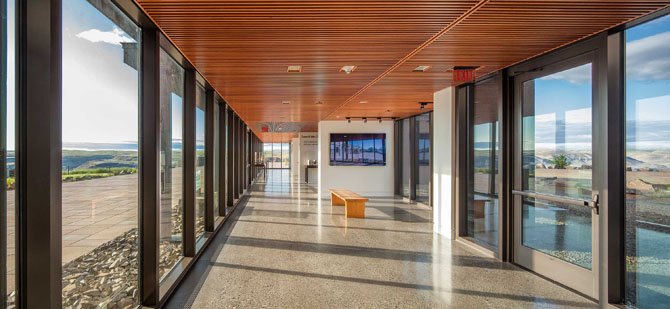 GOLDENDALE — Maryhill Museum of Art, along with Schommer & Sons Inc. and GBD Architects, today announced that the museum's Mary and Bruce Stevenson Wing was honored as a Top Project 2013 by the magazine Daily Journal of Commerce.
The DJC awards recognize the best public and private buildings, renovations, and public works and transportation projects in Oregon and Southwest Washington. The Maryhill expansion received top honors in the Private Buildings category.
The Mary and Bruce Stevenson Wing opened in May 2012. The $9.6 million expansion was the first in the museum's history and the largest cultural capital project in the Columbia River Gorge in 15 years.
The contemporary wing, with its cantilevered terrace and sweeping views of the Gorge, added 25,000 square feet of new and renovated space to the iconic museum. It houses an education suite and collections storage, along with a roomy café, and an outdoor plaza with expansive views and several large-scale sculptures.
One of the wing's most remarkable features is a cantilevered deck that extends over the Gorge nearly 20 feet in some places. During construction, the Schommer & Sons crew spent nearly two months excavating the fractured basalt on site. This is the type of hard, dense stone that the entire Gorge is carved from. After that, creating the cantilever required immense construction coordination and technical framework, including an intricate system of shoring to support the high-strength concrete while it cured in place.
The energy efficient Stevenson Wing is also on track to receive a United States Green Building Council (USGBC) Leadership in Energy and Environmental Design (LEED) Gold rating.
GBD Architects of Portland designed the Mary and Bruce Stevenson Wing.
In December 2012 the wing was named Engineering News Record (ENR) Northwest's 2012 Best Project; the project was also recognized as ENR's Best Cultural / Worship Project in the Northwest in 2012.