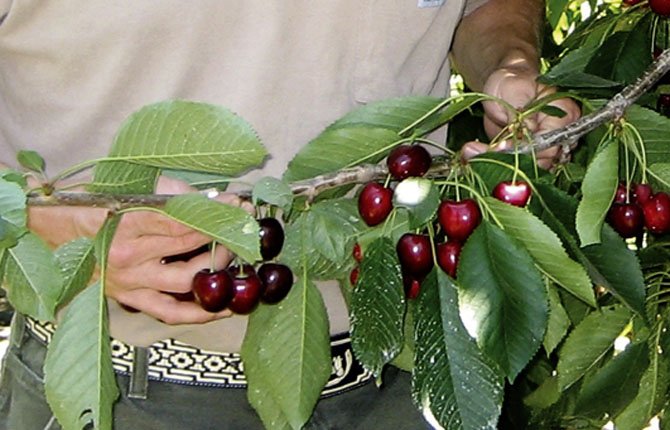 ­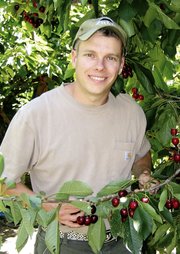 The good news is the median level of malathion detected in local streams dropped 82 percent in 2012 from 2011 — despite the fact that its use has stayed the same.
That means orchardists are doing well at more finely targeting their application of the insecticide.
The bad news is that the use of malathion – which had dropped off significantly and was largely considered a tool of the past — is back in force, at least for the time being, because of the sudden arrival of an Asian bug that attacks healthy, growing fruit. Other types of fruit flies attack rotten fruit.
The new bug, the spotted wing drosophila, "can penetrate the fruit before it's ripe and that's scary," said Kevin Masterson, agency toxics coordinator for the state Department of Environmental Quality. "It can take out an entire crop."
So far, the only thing that works against it is malathion, a broad-spectrum, fairly powerful pesticide.
The chemical that's been around for 50 or 60 years fell out of favor because of its high toxicity to aquatic life, Masterson said.
Malathion targets the central nervous system of bugs, and anything else it comes in contact with. In fish, malathion can cause them to lose control and orientation, affecting their swimming ability.
Half the malathion samples were above the water quality standard, which is .1 micrograms per liter, or, expressed another way, one-tenth of one part per billion.
Malathion is so powerful that if you found .1 micrograms per liter of Roundup in the water, "you wouldn't blink an eye," Masterson said.
The highest sample in 2012 was 67 times above that standard. The median sample — which means half the samples were above that point and half were below it — was around 13 times the water quality standard.
Officials did two more weeks of testing in 2012 than 2011, but still found fewer instances of malathion.
"Our main message is that one year doesn't make a trend, but we had more detections but we saw significantly lower concentrations," Masterson said. "That doesn't mean there still isn't a problem, but the severity of the problem has gone down."
Mike Omeg, owner of Omeg Family Orchards, worked hard to get malathion out of his arsenal of tools against bad bugs. He hadn't used it for four years when the spotted wing drosophila showed up here in 2010.
So little is known about the spotted wing drosophila — the only scientific paper that was available was one from the 1930s, written in Japanese, he said — that the only way to attack it was to use "a big gun" like malathion.
Growers have embraced integrated pest management, which aims for the most efficient way to manage pests. A byproduct of that is decreased use of chemicals.
But to use integrated pest management, growers need to have detailed knowledge of a bug's life cycle — so they know precisely when to hit it, how hard to hit it, and what to hit it with — and at what concentration they become a problem that needs to be dealt with.
None of that is known about the spotted wing drosphila — yet. But he's confident growers will have that information in four or five years. Some 30 scientists across the nation are studying the issue, spearheaded by Oregon State University.
The bug arrived in California in 2009, causing devastating crop loss there in 2010. In fall 2010, the bug was found in Wasco County. It was found nationwide within three years, and is also all over Europe, Omeg said.
Its sudden arrival worldwide "out of nowhere" has even raised people's suspicions, Omeg said.
"There's been conspiracy theories floated out there that the pest was purposely introduced because it was suddenly all over North America within three years and suddenly all over Europe. How did this pest stay in Japan and China and suddenly it's everywhere?" Omeg said.
Ironically, it isn't really a problem in Japan, where natural predators to the bug exist. But bringing those natural predators over here isn't always smart either, because they can disrupt the system and eat good bugs as well, Omeg said.
Omeg isn't a conspiracy theorist. He's too busy concentrating on combating the issue while trying to stay as close as possible to his "ecologically based farming principles, and it's very difficult. It's tough. I am bummed. We have worked on my farm for 20 years to move away from many of these chemicals that we're having to come back to. It's very tough."
Since he's begun spraying malathion, he's also killing two types of good insects that attacked two types of bad insects. So now he has to do even more spraying to combat those bad insects.
"It's shaken our system terribly," Omeg said.
Several state agencies, in cooperation with area growers, did 13 sampling events for a number of pesticides at two points along Mill Creek, on lower Threemile Creek and on lower Fifteenmile Creek.
Malathion was detected the most. No malathion was found on Fifteenmile Creek. In all, 14 samples — around 50 percent — contained malathion at levels over the water quality standard.
By the 2000s, growers had largely gotten away from blanket aerial spraying of malathion — which began in the 1970s — and had started using a more organic-based pesticide that was extremely safe to beneficial insects and other life forms.
The spotted wing drosophila changed that.
Malathion is generally aerially sprayed in Wasco County, but the sprayer has become so cautious he has expanded the buffer zone he uses around streams, Omeg said.