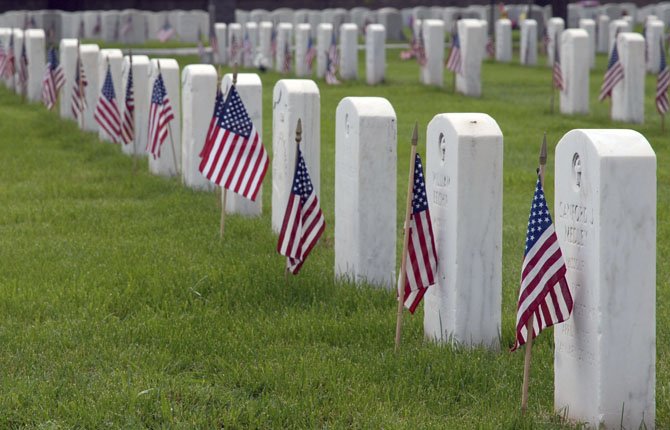 The time has come once again to honor those soldiers who died in the service of our country.
We should feel that grateful remembrance more than once a year, but it is human nature to not think about those things as often as we should, so Memorial Day is a good reminder.
Memorial Day was originally declared to honor those who died during the Civil War. Now it is in honor of United States soldiers who died during any war. According to CNN, since the start of the Civil War approximately 1,243,460 American soldiers have died in war. That's 1,243,460 reasons we have the freedoms we enjoy today.
We should also realize that the toll from our nation's wars is, in reality, much higher than the 1,243,460 reported wartime deaths. Many more soldiers have returned home physically whole, only to succumb to the depression, post-traumatic stress disorder or traumatic brain injuries caused by their service.
Those who voluntarily serve our country — and those who were drafted into previous wars — sacrifice more than just limbs and lives. No one is the same after seeing combat, and the "lucky ones" who came home in one piece have sacrificed things like their peace of mind, a healthy marriage or seeing the birth of their first child.

Unfortunately when it comes to supporting the troops and remembering those that have died the waters can get muddied by politics and social controversy.
We all have our own opinions about military spending, the morality of various military operations, the competence of the commander in chief and whether women or gays should be allowed in combat roles. But whatever those opinions are, they shouldn't keep us from respecting and honoring those who have made — or are willing to make — the ultimate sacrifice.
Black or white, male or female, gay or straight, Muslim or Christian, atheist or believer … none of those considerations should diminish our respect for any solider whose death was caused by their service to our country. All of their sacrifices deserve to be honored equally.
We also shouldn't let the actions of those accused of sexual assaults or other wrongdoing tarnish the reputation of the men and women in uniform who are honorable, moral people trying to protect the people and principles they hold most dear.
Memorial Day can be fun, with its barbeques and parades, but it is also time for a more solemn reflection — time to fulfill the promise from poet Thomas William Parsons that, "On thy grave the rain shall fall from the eyes of a mighty nation!"
Every person who has died protecting our country was a living, breathing human being with hopes and dreams and fears and people they loved dearly. They all left unfinished business and unfulfilled potential behind and were grieved by the people who cared about them.
Many people have someone specific they can remember on Memorial Day, whether it is a grandparent killed in World War II or a friend's spouse killed in Iraq. If you don't have a face to put to the numbers, consider finding one by reading about the lives of some of the soliders who have died defending our country.