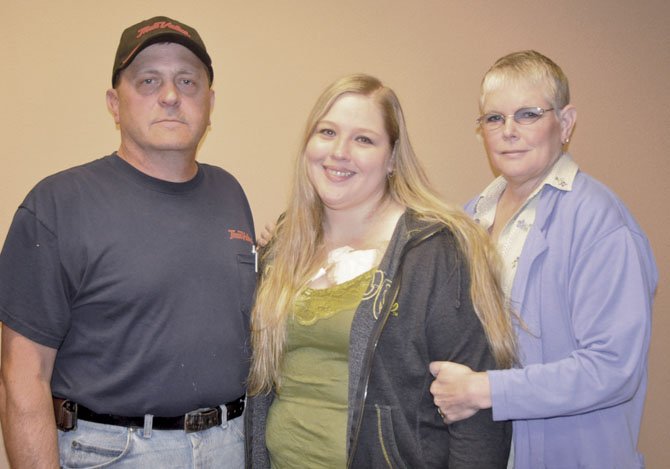 When Letitia Robarge started throwing up in 2009, she assumed she had the flu.
She worked as a pharmacy technician at Safeway in The Dalles, after all, and flu season was going strong, so she was interacting with sick people every day. But after a couple of weeks she wasn't getting any better. So she went to the doctor.
"The doctor said it's just the flu. Let it run its course," she said. "But pretty soon it was weeks of it 'running its course.' It was doctor after doctor, E.R. (emergency room) visit after E.R. visit because I couldn't stop throwing up."
Two and a half years later she was still throwing up almost every day. Her blood pressure fluctuated so wildly she was often near a heart attack or waking up with a head injury from passing out. She had lost 90 pounds because she had trouble keeping food down.
But she finally got a diagnosis.
Robarge suffers from the hyperadrenal variety of Postural Orthostatic Tachycardia Syndrome, known as POTS.
When a person goes from sitting down to standing up, or from lying down to sitting, their body has to make changes to accommodate the new way gravity is pressing down on them. In people who suffer from POTS, their body can't adapt to changes in position. Their heart rate skyrockets, their blood pressure spikes or plummets, and the wrong amount of blood goes to their stomach and other organs, causing them to be sick.
According to the Dysautonomia Information Network, "The symptoms of POTS are life-altering and debilitating at times. POTS patients use about three times more energy to stand than a healthy person. It is as if these patients are running in place all the time."
It isn't known exactly what causes POTS and there is no known cure.
"When children and teens get it, by their mid-twenties it can go away, but from my research there is no indication that if you have adult onset it ever goes away," said Robarge.
When she started suffering from POTS, she had to quit school and quit her job. Robarge said now that she knows what causes her symptoms she can manage them better, but her life is still "a living hell."
She said some days aren't bad and she manages to make it to work. She has transferred to a Safeway in Portland and said she has "great bosses" who allow her to come in whenever she feels up to it. But there are also many days when merely sitting up is too much for her body to handle.
"I love work. I wish I could work every day," she said.
Now when she ends up in the hospital her mother, Vicki Bennett, has to drive to Portland from The Dalles to make sure her daughter is alright. She usually sleeps in her daughter's hospital room.
Bennett said Robarge manages to keep a good attitude despite having the equivalent of four years straight of a severe flu.
"She's still got a great sense of humor," Bennett said. "She can still smile, even when she's …"
"Hanging over the toilet all day," Robarge finished for her.
Bennett said Robarge was recently notified that a spot had finally opened up for her at the Mayo Clinic in Rochester, Minn., for the week of June 16. The opportunity would allow Robarge to go for a week or more of intensive testing by some of the best cardiologists and other experts on POTS in the world. Each POTS patient's case is unique, and Robarge said pinpointing exactly what issues cause her symptoms will help her do a much better job of managing them.
"I just want my life back," she said. "It's ridiculous. I'm 30 years old and can't even do things for myself a lot of days."
The problem is money. Bennett said their family can't afford the plane tickets, hotel rooms and other costs associated with the Mayo Clinic's offer. So they are holding a fundraiser at The Dalles Moose Lodge on Sunday, June 2, at 3 p.m. Tickets are available at Klindt's Booksellers or at the door and are $6 apiece or $10 for a family of up to four people.
There will also be an auction there. Bennett said local groups and individuals from Optimist Printers, Craig's Office Supply, Zim's Brau Haus, the International Order of the Odd Fellows and more have been generous about donating items or helping print posters and tickets. She also said she has been touched by people who come and give her money while she is distributing fliers.