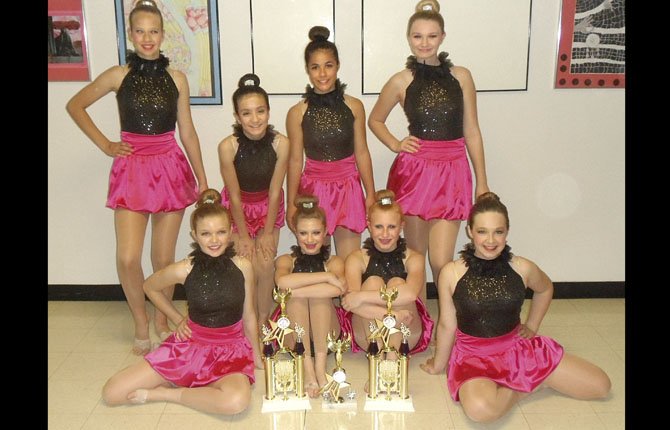 The Dalles Dance Team dominated action this past weekend at the Portland Dance Academy Extravaganza in Gresham with four high scores.
Jessika Nanez placed third overall in the advance division to lead the squad to top results while facing regional competition from studios all over Oregon and Washington.
"I was so excited how every group executed and performed on stage at this competition," said Dance Club instructor Kristi Maley.
In addition, the accelerated advance group won high score group and the advance group tied with themselves for high score group in tap and jazz.
The beginning tap and jazz group got the first-place rally rolling early on, as Torajo Timinski, Maddison Malcolm, Kelsey Boothe, Elizabeth Olivan and Laurel Kirby were joined at the hip in complete rhythm to grab the distinction. Along with that group, Haley Peterson, Kaitlynne Vassar, Ximena Garcia, and Teagan Slatt joined them for a top finish.
In the intermediate division, Taylor Ramsey, Jordyn Hattenhauer, Anna Singhurst, Electra Wickersheim, Lauryn Belanger, Sydney Fransen, Evan Despain, Riley Brewer, Sophia Pullen, Gieselle Schwartz, and Ella Morgan notched first place in jazz and second in the tap dance class.
Kamrey Fransen, Lorelay Berry, Jayden Szeremi, City Mains, Paige Bankhead, Gillian Wolf, Hannah Kortge and Meli Avila had the exacta outcome on the day with first place in the jazz and tap division.
Nanez, Abby Mains, Abbey Helseth, Ally Lutgens, Brianna Gamez, Tianna Smith, Autumn Ringer and Hannah Wallis rattled off first place in tap and jazz in the advanced division.
In the Accelerated Advance Division, the highly talented group of Taylor Sugg, Lilli Chance, Alyssa Valles, Lauryn Despain, Delaney Schanno, Lilly Ley, Destin Ramsey, Ale Pena and Keana Woods, Kristin Pitt, Alissa Pastor, Alexis Pastor, Sydney Langer, Madisen Rowland, Sydni Rapelje, Ally Macnab, Chantel Ripplinger and Aubrey Hansen claimed top honors in both the tap and jazz events.

Taking the highest honor of the event with high score, and first place in their division in Accelerated Advance, was the team of Pena, Emily Chance, Hansen, Lauryn Despain, Karri Furlong, Amanda Cimmiyotti, Sugg and Langer.
Taking top recognition in duo was Avila and Elizabeth Olivan, while Nanez and Helseth racked up enough points to grab first-place honors in the jazz arts duo, and added a high score in tap and a high score tie in jazz in the advance division.
On the individual side, Berry hit third place in solo, City Mains tallied second place for her solo act and Hannah Kortge placed second in solo.
Nanez picked up first in the solo class and she cruised out to third place overall in high score in the advance division, where her score was good enough to garner a $50 cash award.
Pena had another first place in solo, as did Hansen.
Maley is the choreographer and director of The Dance Club Academy in The Dalles. The Dance Club is located by The Dalles Fitness and Court Club and offers many competitive and non-competitive classes for boys and girls ages 3-19. For more information, call the club at 541-298-8508 or email kristi.maley@gmail.com.

Summer session starts June 24 and runs for six weeks.