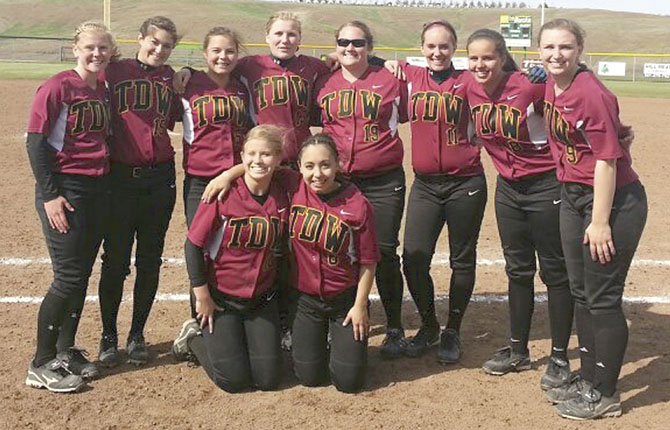 The streak of five consecutive semifinal runs had to end sometime.
With the loss of six seniors from the 2013 team, The Dalles Wahtonka head coach Steve Garrett is ready to roll up his sleeves with a revamped roster ready to start another successful playoff legacy.
"I think we have a lot to build on," Garrett said. "I know a lot of these girls did not like the way the season ended. They will come back stronger than ever. We've got two juniors that will be seniors next year, who will be major contributors and a lot of younger girls who will be fighting for positions."
Those players include, but are not limited to, Ruthie Ford, Lori Cimmiyotti, Morgan Goslin, Grace Helyer, Maddy Bradford and Carley Gowdy.
First-team all-leaguers Hannah Harris and Morgan Triperinas will also be forces in the lineup and incoming freshman Sierra Watson appears to be a player whose star is rising.
Harris has already shown a knack for being a tough leadoff hitter with speed on the basepaths. In Wednesday's season-ending loss to Churchill, Ford slashed a triple and scored a run, so she will be counted on for more production as well.
With the lack of power provided by Katherine Kramer, this Eagle Indian team will rely on speed and small ball to match the 170 runs scored this season.
In fact, the 170 runs were more than the league-title winning 2011 team (166).
Triperinas certainly can provide some pop in the middle of the order and so could Goslin and Gowdy.
"We will see what we can come up with," Garrett said. "It is way too early to tell, but we need some of these players to get some extra swings in to help with the offense."
In the circle, Gowdy and Triperinas reclaim their spots, but Bradford and Watson can wheel and deal as well.
On the year, TDW pitching allowed 147 runs and jump of 41 from last year's numbers.
"What we really need is some pitching," Garrett said. "Trip cannot handle the full load by herself. Maddy has to step up and come back stronger, like I think she will. We have this freshman coming up, named Watson and she can throw some for us. That would be super if she can contribute. There are possibilities, but we will see."
In a way, it is a changing of the guard for a softball program.
Names like KT Clark, Ann Marie Guischer and Kelsey Martinson came through before and started the winning trend.

Garrett now watches as Katie Helyer, Kramer, Kella DeHart, Shaela Buchanan, Meghan Rowland and Melanie Taphouse walk off into the sunset.
While Kramer was on the roster through four years, the Eagle Indians amassed an overall record of 72-41 for a winning percentage of .569, scored 684 runs, while capturing one league crown. "She is a clutch player, a great leader and a solid person," Garrett said. "She is a great kid. She did a fine defensive job behind the plate. Nothing got by her. She worked well with our two pitchers and did whatever was asked."
TDW ended up going 12-16 on the season with two of those wins coming in 12 Columbia River Conference softball matchups.
After starting 2-3, the Eagle Indians won five games in a row and outscored their opponents 45-12 in that stretch.
With that 7-3 record, TDW went off the tracks a bit and went 5-13 in its last 18 games.
They did drop No. 1-ranked Pendleton by a 9-8 margin and worked a state play-in win over Corvallis.
A few bounces here or there, and maybe TDW is making another deep postseason run.
"This last two weeks, the girls have just really come back, sucked it up and put out good practices, good efforts, had good spirit and got us to the first round, one run away from the quarterfinals," Garrett said. "I am proud of them for sticking with it."
There is a realistic possibility TDW can get back into the state hierarchy.
Garrett feels if three or four of his incoming freshmen can make the cut and the returners further sharpen their skills, then there are brighter horizons coming up.
"We are losing six seniors, but there are some good-looking players coming up," he said.