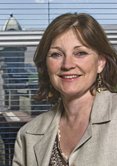 The Dalles — After 33 years of service, Ruby Mason announced this month that she will retire as an officer and executive director of three organizations that work together as the Greater Gorge Housing Partnership to address housing issues in the gorge: Mid-Columbia Housing Authority, Columbia Gorge Housing Authority and Columbia Cascade Housing Corporation.

"Ruby Mason has been a strong leader, only the third since the Housing Agency started operating in 1976, and one who has managed the company through both good and challenging times," said Rod Runyon, chairman of the Mid-Columbia Housing Authority board.

David Sauter, chairman of the Columbia Gorge Housing Authority board added, "The board is grateful for her innumerable contributions to the company and her distinguished tenure as executive director since 1980."
"I have had the best job in the world" Mason said. "It's truly been an honor and privilege to lead an organization that is committed to improving the living environment and quality of life for individuals and our community. After more than three decades with the Housing Authority and 23 years leading Columbia Cascade Housing Corporation it's time to move on and transfer the helm to a new generation of leadership."
Mason added that she will work as an adviser with the board and management team over a several-month transition period after her retirement.
The board of commissioners and directors will conduct the process to choose Mason's successor and will consider internal and external candidates for the position.
HUD's Section 8 Housing Choice Voucher program continues to be the primary operating program to assist lower income families in the area to obtain decent, safe housing in the private sector.

Rental assistance payments are made directly to private owners to help families afford the cost of renting a stable home, which improves their stability and reduces the likelihood they will have to move as a result of eviction, rent increase or other financial struggles.

The Housing Authority also administers the Family Self Sufficiency Program, Section 8 Homeownership, Shelter Plus Care and the HOME Tenant Based Assistance Program for homeless or those at risk of becoming homeless.

Over the past 23 years, Columbia Cascade Housing has developed 20 rental properties encompassing 357 dwelling units in the five-county service area of Hood River, Wasco and Sherman counties in Oregon, and Klickitat and Skamania counties in Washington, many of which have received national recognition and awards for design and innovation.
The Housing Resource Center offers information on various types of housing, including financing for first-time homebuyers, homebuyer education on how to buy a home, foreclosure counseling and deferred no-interest loans needed to make repairs to alleviate health and safety issues for low income homeowners.
Together the housing organizations serve nearly 1,200 families per month.