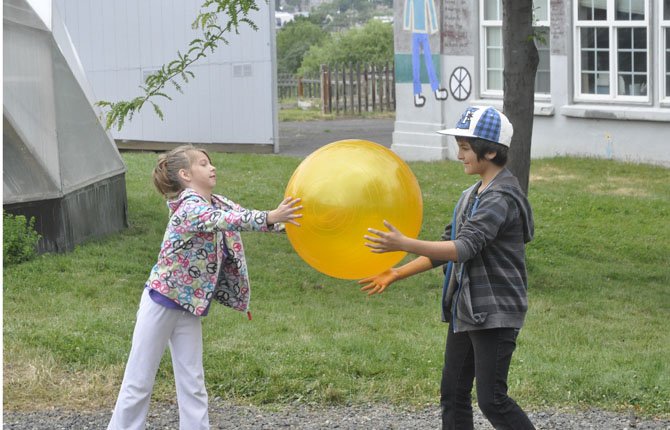 When the summer heat is at its peak, the kids at Colonel Wright Elementary know what to do: find some sunscreen or find some shade.
The students were taught how to be "sun wise" during the school's No Fry Day on May 23. In celebration of the event they were allowed to wear sunglasses and hats to school.
Three stations were set up for the classes: a talk by volunteer Wendy Quisenberry, a game of hot potato in which the loser had to answer a question about sun safety and a craft table where kids could make a bracelet out of beads that change colors when exposed to UV rays.
"It's the UV radiation, not the warmth or the brightness, that causes the problems to our skin," Quisenberry told kids.
She taught them that sunscreen needs to be reapplied every two hours and that they need a sunscreen that is higher than SPF 15. She also recommended a wide-brim hat. She said between 10 a.m. and 4 p.m. is when the sun's rays are most harmful, and that sunburns can come even when it is cloudy or cold out.
"Skin cancer and some of those other bad effects happen no matter what color your skin is, even if you don't get sunburns," she said.
The problem with telling students to seek shade if the sun is at its highest point is that the only shade available to students on the playground during recess is a few slivers that can be found under the play equipment during certain times of the day.
That's why Colonel Wright teachers and parents are working to raise money for a 20-foot-by-10-foot shade canopy for the playground area.
"The kids just get so hot out there," said teacher Jodi Mitchell. "It would be nice if they could take a break from the rain and the sun."
She said an engineer has to approve the designs, and just the installation of the structure will cost $5,000 because it has to be built on rock. She said right now the fundraisers are about $400 away from what they need and are really hoping to raise the rest in the last couple of weeks of the school year.
Anyone interested in donating funds for the canopy can contact Colonel Wright Elementary at 541-506-3360.