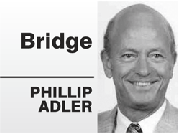 How responder shows a major two-suiter opposite a one-no-trump opening bid depends upon his high-card count.
Yesterday, we learned that if the uncontested auction starts one no-trump - two clubs - two diamonds - two spades, the responder has shown five spades, four hearts and game-invitational values. What does he do with four spades, five hearts and that strength?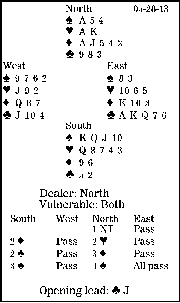 He responds two diamonds, a transfer to hearts, then rebids two spades, natural and game-invitational but nonforcing.
Here, this gives North, the opener, a problem. He knows that his side does not have an eight-card major-suit fit. But he has an excellent 16 points with three fantastic major-suit cards. So he moves toward game with three diamonds (not three no-trump!), wondering if South might be able to convert to three no-trump with a club stopper.
Here, though, South rebids three spades to show his powerful four-card suit. And North goes for game in the 4-3 fit.
West leads the club jack. What happens?
The best defense is three rounds of clubs. To make the contract, South must discard a diamond, eliminating one inevitable loser without reducing his trump length. If East continues with a fourth club, declarer pitches a heart, ruffs or overruffs in the dummy, unblocks the heart ace-king, draws trumps, and claims when — whew! — the hearts split 3-3.
Note that four hearts also makes because of the friendly break.