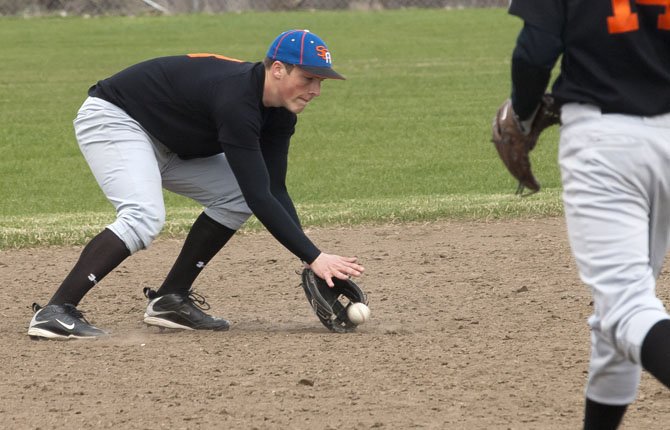 On a team that won four games this year, the Sherman Huskies had two players chalk up all-league honors in the coaches annual meetings recently.
Nick Coleman earned a spot on the first team, while senior shortstop Riley Brown garnered a spot as an honorable mention.
Sherman coach Joe Justesen had to share Coleman with the track and field team for several games, but when he strapped it on, the junior outfielder and pitcher was the best player on the field.
"He was kind of a utility player for us," Justesen said. "He played infield, outfield and even pitched. He did a good job. He was a great leadoff guy to have in the order. He could hit for average, hit for power, steal bases. He was a great baseball player. Wish I could have had him for the whole season."
Justesen said Brown had enough offense to be a big threat, but it is his experience and solid defense that the coach will miss most.
Along with Coleman and Brown, Justesen mentioned names like Austin Kaseberg, Wyatt Stutzman and Jarred Davis as other players who were worthy enough of recognition.
"Austin played great at first base," the Husky coach said. "He didn't have the overwhelming stats at the plate, but he started hitting well at the end. He played tremendous out on the field. He struggled a little bit with his control pitching, but I feel he will come around in the next couple of years."
When drawing up his prototypical baseball player, Justesen pointed to Stutzman. The freshman took control from the catching position and handled a staff that allowed 196 runs.
If it is calling pitches, digging balls out of the dirt or shutting the opposition's running game, Stutzman delivered in several areas.
"He busted it every second he was out there," Justesen said. "Whether it was 110 degrees outside or whatever, he tried his hardest. He was always hustling as much as he could. He will get going with the bat next year. I am looking forward to some good things in the future."
Justesen has two holes to fill with the impending losses of Brown and hard-hitting infielder Nick von Borstel.
Coleman, Kaseberg, Stutzman and Ben Holliday are coming up to help build and compete.
Since this is a cooperative group with players from Arlington, Eddy Lopez and brothers Jonah and Jarred Davis will dive right in with a year of experience under their belts.
Of that Sherman eighth grade group, Kyle Fields, Mavric Winslow, Max Martin and a few others will get serious looks for prolonged playing time as will two wild cards in Ryan Asher and Anthony Lloyd.
Fields is another arm to put on the hill and Justesen envisions Winslow as the same type of effort guy in the vein of Stutzman.
Justesen had his full uniform on Wednesday, as one of the coaches of the Sherman 14U Babe Ruth team.
"That is why we are playing Babe Ruth, so they are ready to go for next year," the coach stated. "We will bring in a strong class of eighth-graders who will be freshmen. They all love playing baseball and enjoy sports in general. We are looking for big things and for some people to fill in some holes."
Just because the Huskies lost 16 games and won just three of 14 Blue Mountain Conference matchups, Justesen is optimistic that his program is set for a rise next season.
"We are looking to compete for the title next year," the coach said. "That is always the belief we need to have when go into a season. I expect the boys to have the same mentality. We have to go out, work hard at practice and get better. We will see what happens."
There is reason to believe that seven wins in two seasons is an anomaly. Justesen knows in his heart that this team has the ability to battle neck-and-neck with the top schools around.
It is through summer baseball and extensive innings in travel ball, all-stars, sandlot games or whatever that will be critical to the development of this younger class.
They need everything they can get, because the BMC is proven to be a top league.
"I feel like our young kids are as solid as the rest," Justesen said. "We got to put it all together. Our league is tough. There is always someone vying to be at the state championship or in the state championship. I am looking forward to next year already. We have a few people that come and help the team get going."