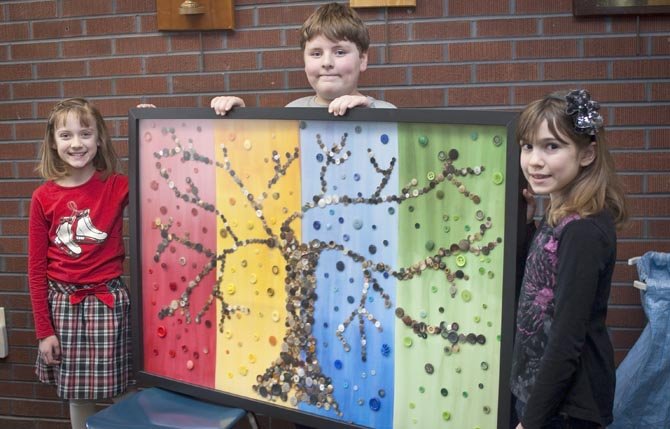 After beginning a new initiative to spend more time serving the community, St. Mary's Academy Students gave 1,442 hours of community service during monthly service days from October to May.
"It was nice to have an opportunity to give back when we are constantly asking for community support," Wendy Palmer said.
The first Tuesday of each month was service day, and kids divided into "family groups" of one student per grade spent a couple of hours giving service to a community organization like St. Vincent de Paul, the International Order of the Odd Fellows and Head Start.
Emily Palmer, a student at St. Mary's, said her favorite service project she did this year was going to Mill Creek Point to fill Easter eggs for a senior citizen Easter egg hunt.
"It was really fun," she said.
David Wring, another student, said his favorite part was walking dogs for Home at Last. He said he liked doing the monthly service projects. "I thought it was nice because it was helping out our community," he said.
Suzie Goolsby at The Dalles Wasco County Library said when the students came to shelve books each month the staff were very impressed with how quiet and well-behaved they were.
"They not only straightened shelves but they put them in order, and when they leave it looks like professionals have done it," she said. "The picture book section, kids get it totally out of order, so it helps us find the book for holds or for a patron."
She said she is also a volunteer at Mill Creek Point, another place the students volunteered, and the residents there were always excited to see the kids.
Wendy Palmer said that some of the service projects that organizations requested were better suited for older students, so next year students will probably be divided by age instead of family group.
Principal Kim Koch said it was nice to see parents also getting involved as volunteers.
"From a parent perspective I heard that they like that their child is being involved and helping others and that they are placing an emphasis on that," she said.
Koch said the reaction from the community was also great, especially when students were collecting food for the food bank and supplies for the troops.
"I was really happy that people were really responsive when they were collecting," she said. "Those reactions helped them get excited and get pumped and realize what they're doing matters."
She said the school is looking to add some organizations to its list for next year and would love to hear from people about service projects the students could participate in.