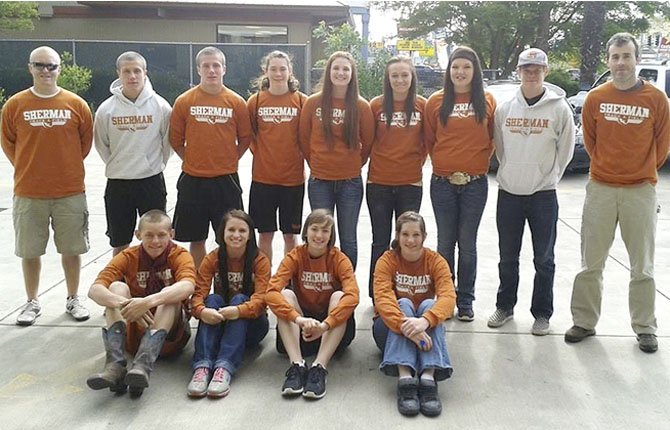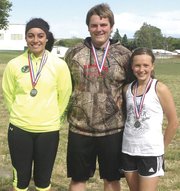 All three Dufur High School track athletes chalked up spots on podium with finishes of sixth place or higher this past weekend in Eugene.
District champion shotput athlete Austin Olson added to his personal records with a top toss of 42-feet-7.5 inches to place fifth, a career-best mark, surpassing his personal record district tally of 42-6.5.
Sophomore Taylor Darden enjoyed a solid three-day span at Hayward Field with top-5 marks in the shotput and discus.
In shotput, she had a throw of 34-1 to secure fifth place, but in the discus, she hurled a powerful toss of 107-10 to grab third place, three-feet behind Gilchrist's Paige Kooker.
Dufur coach Connie Harvey said that Darden is certainly knocking on the door, especially with Spray's Megan White and Kooker leaving to graduation.
"She is definitely up there for next year," Harvey said. "She gets that tunnel vision to get her where she wants to be. It comes down to how bad she wants it and how bad she is willing to work for it. I know she wants to be the best, so I know she will do whatever it takes to accomplish that."
On a personal level, Harvey expressed pride when describing the yearlong efforts from senior Bethany Stelzer.
From starting the 300-meter hurdle season at 65 seconds, Stelzer set a personal record time of 51.81 Thursday in her preliminary heat for sixth place and a spot in the finals classification.
In the finals, Stelzer stopped the watch in 52.24 to earn a sixth-place marker.
"It was amazing to see her out there," Harvey said. "I tell her all the time what I could have done with her for four years. She was very emotional when she left because she knew it was the last time she would be performing in track. She has been an amazing, wonderful addition to my family this year."
As far as next year is concerned, Harvey will have Olson and Darden along with Jake Little and a few other returners and a handful of incoming eighth graders like Tyler Thenell, Ethan Whetherbee, Tristan Harper, Devin Highfield, Laticia Macias, Hanna Sietz, Kirsten Sorenson and Sydney Reed.
In order to find a return to glory, these athletes need to work out, hit the weights and sign up for clinics and summer camps.
"They need to continue to do a weight program and they got to keep getting stronger," Harvey said. "I can't wait to get the season started again. I think we are going to have a strong underclassmen group coming in next year, so I am exciting about the program after that."
Sherman girls net 21st place
Coming off a weekend where they secured four district track championships, the Sherman boy's and girl's track squad embarked on a new challenge at Hayward Field in Eugene for three days of running, jumping, hurdling and throwing at the 1A OSAA State Track and Field meet championships.
In all, there were four top-7 finishes, including a third-place outcome by Meagan McKinney in the 100-meter dash finals, where she stopped the clock in 13.24 seconds.
She wound up .22 seconds behind state champion, Morgan Reddington, of Cove (13.02).
McKinney advanced to the 100-meter finals with a fifth place preliminary finish of 13.56.
Andie Harrison, a district champion in the 400-meters with a time of one minute and 6.28 seconds, set a personal record in her preliminary heat for seventh place in a 1:06.09 to vault her into the finals.
There, she churned out another seventh place effort with a time of 1:06.18.
Multiple district champion and senior, Samantha Coons, liked what she saw from her young teammates.
"I just want to say how incredibly proud I am of Andie and Meagan," she said. "These two girls have made such a big improvement through the track season."
Coons went to work in the triple jump event and chalked up sixth place at 30-8.75, a mark that was a little more than a foot off her district mark of 32-02, but she still earned a spot on podium in her final individual event.
Coons also joined forces with Harrison, McKinney and Katie Poirer for the 4x100-meter relay run where they crossed the tape in 54.48 seconds for ninth place in this tough field of top relay teams.
On the boy's side, Brett Evans and Tanner Sandquist made an impression in the 800-meter run, with each ending up in the top-10. Sandquist scored a 2:14.24 for 10th place, but Evans rallied for sixth in the 800 with a personal record rally of 2:06.50.
His district-clinching run a week earlier in Moro was 2:11.11, so he shaved a significant amount of time from his totals.
Most of the Husky participants are coming back in 2014, with Evans, Sandquist, Blake Evans, Hunter Grevnik, Kevin Hart, Kenny Earl, Poirer, Jasmine Wilson, Harrison and McKinney making up a solid core.
Coons, Shelby Kaseberg, Brooklyn Sandquist and Devyn Roberts competed in their final season, but left a winning legacy in place.
The time is now to get Sherman back on top.
"Those seniors were great for us this year," Harrison said in an earlier interview. "They were leaders. We will keep working harder to do even better next year for them."