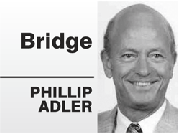 For the last two days, we have looked at responder's inviting game with 5-4 in the majors opposite a one-no-trump opening bid. What does he do with game-forcing values?
The best method is the Smolen convention. Responder bids two clubs, Stayman. If the opener shows a four-card major, responder raises to game in that suit. But if the opener rebids two diamonds, the responder jumps to three of his four-card major. In this way, if they have a 5-3 major-suit fit, the opener becomes the declarer — as in today's deal. (Three no-trump would have been fine here, but if North had, say, a singleton diamond, the weakness in that suit might have been fatal.)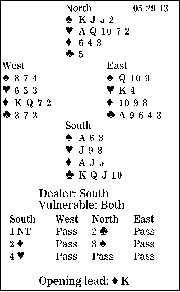 West leads the diamond king against four hearts. How should South plan the play?
Note that if North is the declarer in four hearts, the diamond-10 lead from East, a likely choice, would be lethal. The defenders would get one heart, two diamonds and one club.
In contrast, when South is the declarer, he is in control as long as he ducks the first trick, executing a Bath Coup. What can West do next?
A trump shift is best. If declarer tries the finesse, he goes down because East wins and leads back a diamond. But South, anticipating that scenario, should win with dummy's ace and call for the club five. If East takes the trick and plays a diamond, South wins, throws dummy's last diamond on a high club, and works on trumps to take two spades, four hearts, one diamond and three clubs. Or if East ducks the club, declarer wins and returns a club, discarding a diamond from the dummy.