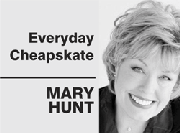 The dishwasher in my house is a workhorse. It does a great job of doing all sorts of things, like cleaning dishes and baseball caps, de-crystalizing honey (yes, you read that right) and cleaning my dish racks. Now I can add cleaning refrigerator shelves to the list.
SPARKLING CLEAN SHELVES. When I clean my refrigerator I put all the shelves, including the door shelves, in the dishwasher. I run the short cycle, which saves time, and the shelves come out sparkling. — Em, EC Blog
TACO CASSEROLE TIME SAVER. To save time, money and even a few calories, I sometimes will make a taco or enchilada casserole rather than individual tacos or enchiladas. I roll out a square of tortilla dough to about 9 x 13-inches, stick it on my griddle to cook and then throw it into a prepared baking dish. I top with taco/enchilada fixin's, place another tortilla on top, sprinkle with cheese, and then put it in the oven long enough to melt the cheese. This dish goes further and with less waste, and saves me time from making individual tortillas. — JK, EC Blog
DOG HAIR-REMOVAL GLOVES. My Labrador retriever frequently goes places with me, traveling in the back of my car. Needless to say, lots of dog hair gets stuck on the carpet. I've tried everything to remove it, including sticky roller tape and special sponges, but nothing has worked. Finally, I tried my gardening gloves. The palm of the glove has a rough, rubbery texture, and they work beautifully. I put on the glove and run my palm down along the carpet. The hair piles up in my glove. — Kathryn, EC Blog
GRIND THE BEANS IN A JAR. I buy coffee beans even though I don't have a coffee grinder. I use a mason jar and my blender. I add the beans to the jar, and screw it into the blender. — Angela, Ohio
SWIFFER CLEANING TWO-STEP. I cut up old towels into pieces that fit as a cleaning pad on my Swiffer. When mopping, I use a spray bottle filled with water and a tablespoon of Murphy's Oil Soap, spraying small areas and mopping as I go. The floor dries very quickly, too. — Jill, EC Blog
WRAP UP THE BREAKABLES. As a former Air Force wife and a quilter, I realized during my very first move that quilting fabric would make for good packing material. I was going to move it anyway, and if I used my own packing materials I wouldn't have to purchase the moving company's. I also used our towels, sheets, pillowcases, t-shirts and nightgowns to pack our belongings. It cut down on our costs during our many moves, it didn't harm the environment, and the materials were still clean (although wrinkled) when I unpacked. I would suggest to those who want to cut costs from their move to look around their homes for soft things that can protect breakables. — Yvonne, Indiana
Would you like to send a tip to Mary?
You can email her at mary@everydaycheapskate.com, or write to Everyday Cheapskate, P.O. Box 2099, Cypress, CA 90630. Include your first and last name and state.
Mary Hunt is founder of www.DebtProofLiving.com.
To find out more about Mary and read her past columns, please visit the Creators Syndicate Web page at www.creators.com.