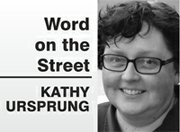 Price comparisons: Wondering how your health care costs compare to those of people in other parts of Oregon and the nation?
The Centers for Medicare and Medicaid Services recently released data on hospital charges for a number of U.S. hospitals and Mid-Columbia Medical Center was one of them.
An article in the Rural Assistance Center, shared with us by Julie Reynolds, offers information and links to the detailed charging information. The article is available online at http://bit.ly/11yseoD.
MCMC is the only hospital reported in the Eastern Oregon area, with the exception of St. Charles in Bend. Data on the local hospital is only available for 15 of the 100 different diagnosis-related groups. When fewer than 11 patients have been treated, data is not provided.
While the reports are not very user-friendly, they do give health care customers an opportunity to compare costs across different providers.
More care information: The people at The Springs at Mill Creek, are hosting a free informational session for seniors and their families about the many issues related to senior housing.
The event will be this Thursday, May 30, from 6:30 to 7:30 p.m. at their The Dalles location.
Brenda Weisz, RN, regional director of Nursing Services for the company will cover assessment of care levels, making the transition from independent ot assisted living, what does memory care mean and other related topics about the industry.
The Springs is due to launch a new memory care unit in the coming two months.
"For families who haven't explored senior housing, this session will help negotiate the options available to them and their loved ones," said Jay Leo, director of operation for The Springs Living. "Senior housing has changed and evolved a lot over the years."
Online: www.thespringsliving.com