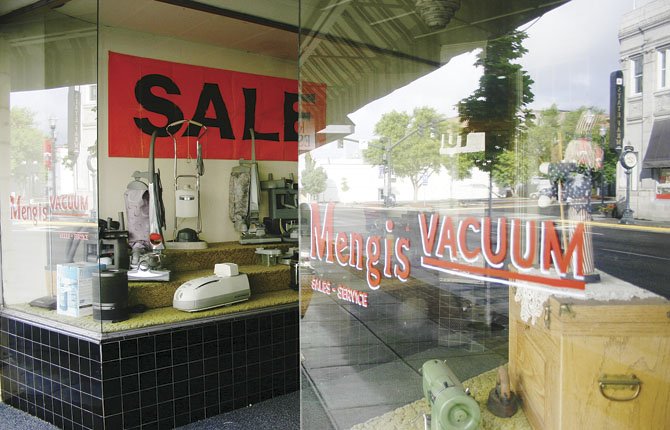 Greg and Francie Mengis are moving Mengis Vacuum Sales and Service out of its longtime storefront location at 305 E. Second St., but will continue to service vacuums and sewing machines for their regional customers.
"We are transitioning to a new level of service," the Mengises wrote in a letter to customers. Future plans are not yet complete, but the storefront will close this Friday, May 31. The company's business phone number will remain the same, 541-296-5276.
The company started with Greg's father, Joe, who settled in The Dalles with his family in 1947.
"He sold Kirby [vacuum cleaners] here in 1938 and 1939, then after the war we came back to The Dalles," Mengis said. "You couldn't get vacuum cleaners or any appliances during the war."
Joe Mengis liked the area after his earlier visits and didn't want to raise his family in the metro area, Greg noted.
"He started in his apartment with sales of Kirby vacuums," Greg said. "He moved and he had his shop for repairs in the garage."
His first downtown storefront was on East Third Street next to where Columbia State Bank is now. The block included the Walther Williams used car lot, P. Everett Curtis Accountants and the insurance firm owned by the father of current The Dalles Mayor Steve Lawrence.
Greg's older brother Robert, now retired, worked for the business in Portland, and some in The Dalles. Greg started working for his father in 1953 at the age of 13.
"I had two jobs, one for Marty Otis printing The Dalles Reminder and I worked for my dad, too," he said. He worked after school picking up vacuum cleaners for service and going on service calls.
The company took on sewing machine sales and service in 1960.
"If we wanted more money, we had to do something else," Greg said. The Kirby vacuums were longtime investments with none of the planned obsolescence of today's products. They tend to last a long, long time."
"They do if they have somebody who takes care of it," Mengis said. "Once you buy one, you have to have somebody there for service and to take care of it after that. That's why we're still here. [Francie] wanted me to quit years ago, but it's hard to just stop when all these people have supported you."
The oldest Kirby vacuum Mengis still services is a 1945-1947 model. That service will continue, even though the Mengises no longer will have a storefront.
"We do a lot of business from outside the area," Francie said, "Goldendale, Dufur, White Salmon, Hood River."
The Mengis company moved to its present location in 1962. Through the years, all but one of the Mengises' five children have worked at the storefront.
"It's been a family thing," said Francie, who does the bookkeeping for the business.
Through the years, the Mengises have seen the downtown area change as grocery stores and other general purpose businesses like car dealerships and pharmacies have moved to the West Sixth Street shopping corridor.
"It's more of a specialty thing now," Greg said. "You go downtown if you want to buy furniture — or a vacuum."
The Mengises will have more details on their future plans at a later date.
"We want to thank the people for supporting us all these years," Francie said.
"Without them, we would have nothing," Greg added. "But it's a two-way street. The thing that makes a business is products and services at a price people can afford. Do that and they'll come to you, I don't care if you are downtown or where you are."