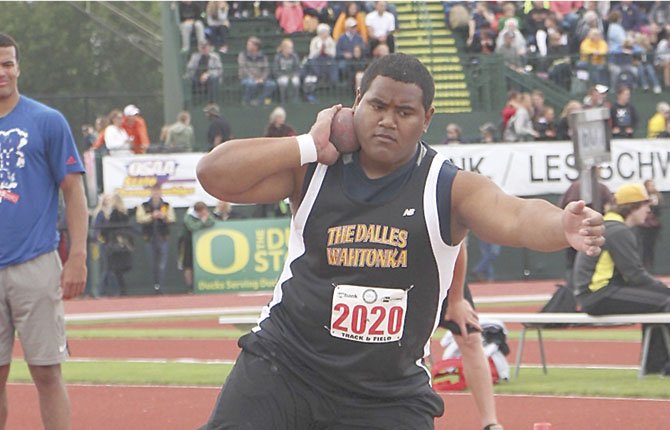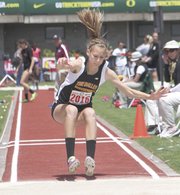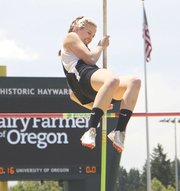 Even though the aura and ambiance of Hayward Field presented many awe-inspiring emotions, the six members of The Dalles Wahtonka track and field team maintained their cool and hit right at or near some personal records this weekend at the 5A OSAA State Track and Field meet in Eugene.
Of the three boys to punch state tickets, defending state placer Lio Tunai jumped up a level from third place in 2012 to second place this weekend in shotput with a throw of 50-feet-11.25 inches.
He wound up less than two-feet behind eventual state champion, Mitch Wilkens, of Willamette (52-10.75).
TDW coach Garth Miller sees a progression in his prized athlete, so the senior year could be one where Tunai finally breaks through.
"He will be a senior and have another shot at it," Miller said. "I think he will be hungry after that first place position next year. I think it will work to his benefit. If he keeps working hard, there is no reason why he couldn't be in the hunt for first place again."
In the long jump, Harris Farr hit the track with some added fanfare and delivered a jump of 21-6.25 to notch sixth place, just a short distance behind state champion, Liam Henshaw, of Marist.
Junior Zach Nerdin set some good numbers this season and hit the state circuit with some momentum of a personal record of 16.08 seconds, but he ended up being edged out of finals competition in the 110-meter hurdles, where he crossed the tape in 16.92 for 12th place overall.
The lone senior of the bunch was Maya Barnard-Davidson and she had a goal to surpass 10-feet in the field.
She got as high as 9-0 and tallied ninth place, six inches shorter than her personal record set midway through the 2013 campaign..
Yasmin Hill hit 12th place in the standings for her initial state try at long jump and she leapt to a 15-8, 3.75 inches off her best mark set earlier this season.
In the triple jump, Katie Conklin entered action with limited expectations, so she turned out a 33-6.5 for ninth place in the standings.
Her top jump was 3.25 inches short of state champion, Chaquinn Cook, of Benson.
Miller told his athletes to enjoy the experience and shoot for another trip next season.
This group of five will be the stronghold leaders of a young, up-and-coming track and field squad next year.
"It is nice to have five kids coming back who have been at the state meet," the coach said. "We will move back up. We graduated 20 seniors three years ago and our numbers have been down. This year, we have our numbers back up and we have a good core of kids who will be good for the future. We will continue to build on this year and be looking forward to better things next year."
Miller is hopeful that the state numbers will increase next year, so with some added workouts on the track, in the gym and wherever else, those numbers are certainly attainable.
Without the services of 11 seniors, there are reasons for optimism, as TDW will be rejuvenated by an influx of talented incoming eighth graders to go with a group of returning athletes, who will be looking to add to their standout seasons.
"There is always room for improvement no matter how good the team is," Miller added. "They are coming off their district meet with some real good performances. I think they feel good about how they finished the season and we will just build on that. We have some returners who will be good for us."