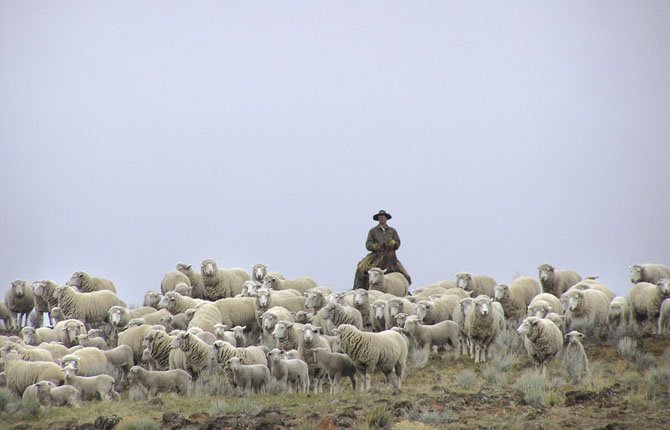 In The Dalles
Vogue Knitting destination experience guests and celebrities are expected to arrive at The Whole Ball of Yarn in The Dalles around 2:30 p.m. Friday, May 31, for an estimated 45-minute stay before traveling on to the Imperial River Company in Maupin.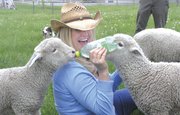 A unique tourism event will bring an economic boost to south Wasco County this weekend — with a stop in The Dalles Friday — when Vogue Knitting focuses on the Imperial Stock Ranch for one of its series of exclusive destination weekend experiences.
The top-drawer event starts Thursday with an overnight stay at the Hotel DeLuxe, a boutique hotel in downtown Portland, before traveling Friday by charter bus to The Dalles for their first stop at The Whole Ball of Yarn in downtown The Dalles, owned by Paulette Brook.
Brook is excited to have some of the stars of the knitting world in her shop, including knitting designer Nicky Epstein.
"Nicky Epstein is probably the pinnacle of the peak of the movie stars of the knitting world," Brook said.
Also expected are Vogue Knitting Editor in Chief Trisha Malcolm and Doreen Connor, Vogue Knitting's director or advertising sales.
"If you have a Vogue Knitting magazine you want autographed, you can bring it or you can buy one here," Brook said, although supplies are limited. She expects the group to arrive about 2:30 p.m. Friday for a 45-minute stay.
Brook not only sells Imperial Yarn products, she and another woman working through her shop knit samples for the Imperial Yarn brand.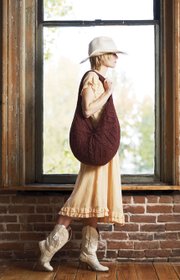 While Brook is excited about the opportunity to bring some of the stars of knitting to her shop, Dan and Jeanne Carver of Imperial Stock Ranch and Imperial Yarn are excited about the larger economic impact of the event on Wasco County and Central Oregon as a whole.
"It's huge in several ways," said Jeanne, speaking on behalf of the company. "To me, it's an absolute miracle that a magazine and publishing company at the top of the industry, like Vogue Knitting, would come here. In the needle arts industry, they're just premier. For them to recognize the combination of things that brought them here is just overwhelming to me."
That combination includes quality of product, the inroads of the brand into the market, the heritage of ranch and the Columbia breed sheep that are raised there.
"In the yarn industry, we are unlike any other," Carver said. "We are truly a ranch that owns its product from soil to finished piece. That is very rare."
Last year's visit had a big impact on the Imperial Stock Ranch economy.
"In the last 24 months, the number of stores carrying us has gone up over 500 percent," Carver said. "I can't say that's all due to them coming, but that's a part of the story. The efforts we're making to sell yarn, to tell the story of the Central Oregon region and our history, isn't just about us. It's about Wasco County and north central Oregon. It's been a part of our culture here for a very long time. All we're trying to do is capture that and share that story, and share a wonderful Central Oregon sunlight product."
The Imperial Stock Ranch has been in existence near Shaniko since 1871. It is family owned and operated on more than 30,000 acres of Oregon high desert. The Carvers produce grains, hay, grasses, cattle and sheep used in a variety of consumer products. They've also been active in historical preservation and education about the ranch, working to preserve the agricultural production of the ranch and its original homestead structures.
The Carver family also works closely with public and private agencies on projects ranging from sustainable practices to wildlife restoration and preservation.
Cattle and sheep are integral parts of the cycle, that involves converting sunlight energy and vegetable matter to stimulate root development, and contribute to a health ecosystem, including the return of salmon and steelhead spawning to the ranch's creeks.
That's all part of the experience Vogue Knitting plans to bring its travelers.
"They come here to experience Vogue, the kind of event only Vogue can put on and support, something really nice with all the little extras like the instruction of world-renowned designer Nicky Epstein," Carver said. "Those are two top draws. But then they come to a place like the Imperial Stock Ranch."
Also part of the experience is a stay at the Imperial River Company in Maupin, owned by the Carvers' daughter and son-in-law.
"That's part of keeping the ranch in the family for the next generation," Carver said. "And it's a wonderful mixture of culture experiences for visitors for this event and for other events. They will stay at the Imperial River Company right on the bank of the wild and scenic Deschutes River. How much better can that get?"
While staying in south Wasco County, the knitters will be exposed to a variety of regional activities, including a short rafting trip and fly-fishing lessons that bring other regional businesses into the act.
Saturday they will have an instructional knitting session in the morning, then travel to the ranch for a buffet lunch, shopping at the Imperial Yarn Shop — which is located in the historic Hinton house that was recently fixed up for the purpose — a herd dog demonstration and a tour of the historic ranch headquarters, which is a national historic district.
"They'll get to give bottles to bummer lambs," Carver said. "They were absolutely thrilled last year to have an up-close and personal experience with sheep." They'll wear cowboy hats provided as part of the trip and get their photographs taken with the dogs and cowboys.
And boy do those knitters shop, Carver said, like nothing she had seen before. They told her last year that they would have purchased more, if the shop had set up mail-order arrangements. This year, they are prepared.
"We'll throw quite a party for them Saturday night back at the lodge," Carver said. "Local cowboy and country entertainer Les Vaughn and his band will do the music." The food, too, will have a western theme. "But Sunday afternoon they'll get a whole other experience."
After fly fishing, white-water rafting and a bus trip to Sherar's Falls to view the Native American fishing platforms on the Deschutes, they'll have a five-course, wine-paired finale dinner with guest chef Mark Hosack of Gracie's at the Hotel DeLuxe. Maryhill Winery, a sponsor of the event, will provide the wine. Oregon Public Broadcasting will be filming the finale dinner.
In addition to increased business, Carver says Imperial Stock Ranch has seen increased tourism.
"We give tours any time by appointment," she said, adding that they prefer group tours because they are a working ranch. "We recently had 35 people from Gateway Presbyterian Church in The Dalles."
They've also recently hosted a film crew and yarn store owners from Petaluma, Calif., and Denver, Colo.
"Particularly within the needle arts community, if Vogue's there, it must be good," Carver said. "More and more people are making an effort to come here."
While sheep growers have gone out of business by the tens of thousands as a result of consolidation of the meat sector, pressure from imports and animal predation, Imperial Stock Ranch has fought to hang on, Carver said, "because it was our history and heritage and we felt that it had value. Sheep had a place in man's survival for thousands of years. How could we kick them to the curb?
"Today we are where we are and sell all that we grow — and using additional fiber sourced from other regional growers. We've grown beyond our production and are helping more sheep ranchers and can pay them a premium."
The ranch has also increased its direct employment, with ranch workers, four women employed by the yarn shop.
Carver also expects to see more job growth as a result of upcoming developments, which she is not yet prepared to announce.
Online: www.imperialstockranch.com